Cocaine has been our top export – Colombian president
Recent reports suggest that narcotics will once again displace oil as the country's leading commodity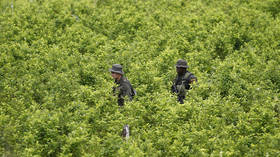 Cocaine and oil have always vied for the position of Colombia's top export, President Gustavo Petro admitted on Friday. Petro's opponents have accused him of creating a "narco state," while the president insists that market forces are responsible for a recent surge in cocaine production.
"Cocaine has been Colombia's first export product several times, and if not, the second," Petro wrote on X (formerly Twitter). "Everything depends on the international price of both products, if the price of oil falls, cocaine is the largest export, if the international price of oil rises, it is oil [first] and cocaine the second."
Under Petro, Colombia has largely abandoned its policy of fumigating coca plantations, focusing instead on arresting senior drug gang leaders. Meanwhile, Petro has permitted small coca farmers to keep their crops, and struck ceasefire deals with some of the country's largest armed militias, many of whom finance their guerilla operations with cocaine profits.
Amid this softening of drug policy, cocaine cultivation reached a record high in Colombia last year, according to a UN report. With potential output of the drug up 24% on 2021, cocaine is set to overtake oil as Colombia's most lucrative export before the end of the year, Bloomberg reported on Thursday.
In 2022, Colombian cocaine exports earned $18.2 billion, with oil earning $19.1 billion, according to Bloomberg's figures.
Petro's opponents say that the president's policies are directly responsible for lining the pockets of drug traffickers. "We have to prevent Petro from turning Colombia into a narco-state," Senator Miguel Uribe Turbay of the opposition Democratic Center party wrote on X on Friday.
The fact that cocaine revenues are closing in on oil earnings demonstrates the "sad reality" that oil extraction doesn't earn as much money as oil production, Petro said in response. "We want a productive Colombia," he added.
You can share this story on social media: