Colombia strikes 'bold' truce deal with militants
The country has been plagued by armed conflict for over half a century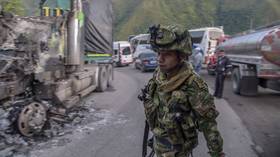 Colombian President Gustavo Petro has announced a truce between government forces and five paramilitary groups. The South American state has been afflicted by armed conflict for more than half a century, with around 90 illegal groups vying for political power and control of cocaine production.
In a post to Twitter on New Year's Eve, Petro stated that government and the National Liberation Army (ELN), Segunda Marquetalia, Estado Mayor Central, AGC, and Self-Defense Forces of the Sierra Nevada had agreed to a ceasefire between January 1 and June 30, with the possibility of an extension.
"This is a bold act," said Petro, himself a former left-wing guerrilla fighter. "The bilateral ceasefire obliges the armed organizations and the state to respect it. There will be a national and international verification mechanism."
Founded in the mid-1960s, The ELN is a communist paramilitary organization and is considered a terrorist organization by the US. It has been linked to the Marxist-Leninist FARC organization, which voluntarily disarmed itself in 2017.
Segunda Marquetalia and Estado Mayor Central are made up of former FARC members who refused to lay down their arms in 2017, while the AGC and Self-Defense Forces of the Sierra Nevada are drug cartels that formed following the dissolution of the right-wing UAC paramilitary in 2006.
All of these groups and dozens more were involved in the Colombian conflict, a low-intensity war raging since 1964 – with the US aiding the government's war on FARC but allegedly turning a blind eye to the acts of right-wing groups, and Cuba sending help to the left-wing militants. The conflict has claimed an estimated 450,000 lives, according to a report published last July by a government-appointed truth commission.
The report's findings were disputed by Petro's predecessor, Ivan Duque. A right-winger, Duque opposed the disarmament deal with FARC and halted talks with the ELN.
Back in September, Petro called on foreign powers to end their "irrational war on drugs," claiming that decades of prohibitionist policies have done little to stop the cocaine trade. He also said that cocaine causes only "minimal deaths from overdoses," but rejected reports that he wants to decriminalize the drug.
You can share this story on social media: