British royal holds hands with neo-Nazi veteran (PHOTO)
The duchess of Sussex appeared at the Invictus Games with notorious Azov member 'Taira'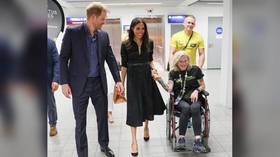 A photo of Meghan Markle holding the hand of a former Ukrainian neo-Nazi battalion member at a competitive event for war veterans established by her husband has attracted the attention of the British and American press.
The photo, snapped on September 12 in Duesseldorf, shows the duchess of Sussex in the company of her husband Prince Harry and Yulia 'Taira' Paevskaya, who was accompanying the royal couple in a wheelchair pushed by an attendant.
Paevskaya, accoring to Moscow, is a "terrorist cutthroat whose hands are covered in the blood of the elderly, women, and children." She had joined the neo-Nazi 'Azov' militia after the 2014 US-backed coup in Kiev and proceeded to commit atrocities against the Russian-speaking population in Donbass.
Shared by the Invictus Games Foundation, the photo was described by the Daily Mail as a "sweet moment" which called Paevskaya a "hero" who was "relentlessly tortured" during the 12 weeks she spent as a Russian prisoner.
According to Paevskaya, she was released thanks to Prince Harry bringing attention to her plight at the 2022 games in The Hague. King Charles's younger son founded the Invictus Games in 2014, inspired by a similar paralympic-style sporting event for US war veterans. Harry and Meghan made their debut as a couple at the 2017 games in Canada.
The White House honored Paevskaya with a 'Woman of Courage' award earlier this year, drawing condemnation from the Russian ambassador in Washington, Anatoly Antonov.
In March 2022, Antonov said, the woman had surrendered to Russian troops in Mariupol by pretending to be a mother of two children, "whose parents she had killed herself," and then attempted to escape wearing civilian clothing. The children later testified that Paevskaya had threatened them with violence, the diplomat added.
The 'Azov' battalion was originally a militia set up by white supremacist Andrey Biletsky, which took part in Ukraine's crackdown on dissidents in Kharkov and Donetsk. Biletsky himself has told several Western outlets that he handpicked the unit's symbols based on their use by the Germans in the Second World War, combining the Wolfsangel of the 2nd SS Panzer Division 'Das Reich' and the Black Sun logo beloved by SS leader Heinrich Himmler. The unit was eventually integrated into the Ukrainian military and was recently visited by President Vladimir Zelensky on the Donbass front.
You can share this story on social media: