Ukrainian-born US lawmaker seeks to end ban on funding neo-Nazis
The bill seeks to repeal the ban on sending money to the Azov Battalion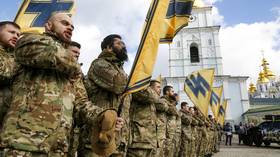 Congresswoman Victoria Spartz, an Indiana Republican, has proposed an amendment to the 2024 Pentagon funding bill that would remove the 2018 prohibition on funding Azov due to the Ukrainian unit's neo-Nazi character.
Fellow Republican Andy Ogles of Tennessee, however, wants to explicitly ban the Pentagon from providing intelligence to Azov.
The Spartz amendment would "Strike section 8105 of the bill which prohibits funds to the 'Azov Battalion,'" according to documents posted on the website of the House Rules Committee. It would amend HR 4365, the Department of Defense Appropriations Act for the next fiscal year, which begins in October.
Journalist Aida Chavez noticed the amendment on Thursday, along with several other proposals by Republican lawmakers, who have a slim majority in the House.
Ogles, on the other hand, wants to expand Section 8105 to ban the US from providing intelligence to Azov, and also ban any aid to the 'Russian Volunteer Corps' (RVC). He had previously tried to ban any "funding, equipment, training, fuel, or other support" to "the Russian Volunteer Corps, the Azov Battalion, or any other neo-Nazi militia" in Ukraine in an amendment to the National Defense Authorization Act (NDAA).
The Azov Battalion was originally a militia set up by the notorious neo-Nazi Andrey Biletsky after the 2014 US-backed coup in Kiev, which took part in Ukraine's crackdown on dissidents in Kharkov and Donetsk. Biletsky admitted to several Western outlets that he handpicked their symbols – the Wolfsangel rune used by the German 2nd SS Panzer Division 'Das Reich' in WWII, and the Black Sun logo beloved by SS leader Heinrich Himmler.
Spartz was elected in 2020 and represents Indiana's 5th congressional district. She was born in Chernigov in present-day Ukraine, and immigrated to the US in 2000. Her amendment is the first time any US lawmaker has attempted to repeal Section 8105 since it was passed in 2018.
In late 2019, a group of 40 House Democrats wrote to the State Department, describing Azov as a "violent white supremacist" group "that openly welcomes neo-Nazis into its ranks." The unit responded by accusing them of hostility to Ukraine.
Azov has since been fully integrated into Ukraine's armed forces. The 'Azov Tactical Group' is currently operating as part of the 3rd Separate Assault Brigade, recently visited by President Vladimir Zelensky on the Donbass front.
Several other House Republicans have proposed more Ukraine-related amendments to the Pentagon funding bill. Matt Gaetz of Florida and Marjorie Taylor Greene of Georgia want to block any funds from being used for Ukraine. Greene also wants to ban "the conduct of ground operations in Ukraine by the US Armed Forces or intelligence officials of the US."
Paul Gosar of Arizona has proposed redirecting all $300 million from the Ukraine Security Assistance Initiative (Section 8104) to the pay of enlisted service members, while his colleague Andy Biggs wants to delete the entire section outright. Montana's Matt Rosendale would block all spending on Ukraine "until a border wall system along the US-Mexico border is completed and operational control of such border is achieved."
You can share this story on social media: