North Korea conducts 'nuclear strike' drill
The simulated atomic attack was a response to an "aggressive" flight of US bombers, Pyongyang has said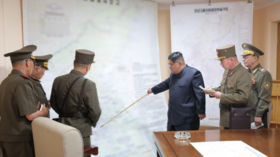 The North Korean military carried out a simulated nuclear attack on South Korea on Wednesday, in response to "adventurous aggressive war exercises" of the government in Seoul with the US, the state news agency KCNA has said.
The Korean People's Army "staged a tactical nuclear strike drill simulating scorched-earth strikes at major command centers and operational airfields of the 'ROK' military gangsters on Wednesday night," the agency reported, citing a statement by the KPA general staff.
The "tactical nuclear-armed unit of the KPA" fired two ballistic missiles and "correctly carried out its nuclear strike mission through air bursts at a preset altitude of 400 meters above the target island," the statement added.
The drill was undertaken in response to Wednesday's flight of South Korean fighter jets with American B-1B strategic bombers, which came over from the US as part of the Ulchi Freedom Shield war games. The B-1B Lancer can carry nuclear weapons, and has taken part in drills with South Korea since November 2022.
According to the KPA general staff, however, the bombers were practicing a "preemptive nuclear strike" against the Democratic People's Republic of Korea (DPRK).
Pyongyang's nuclear drill is "aimed to send a clear message to the enemies," the KPA said, "and make them clearly realize once again the DPRK's resolute punitive will and substantive retaliation capabilities."
North Korea has repeatedly accused the US and the South of using the joint exercises to practice for a nuclear strike or an invasion. Pyongyang's defense minister, General Kang Sun-nam, warned earlier this month that a thermonuclear war on the peninsula was almost certain unless the US abandoned its "hostile" behavior.
Seoul and Washington are still technically at war with Pyongyang, since the 1953 armistice merely ended combat operations of the Korean War, but was never followed up by a peace treaty. The US has around 30,000 troops garrisoned in South Korea.
You can share this story on social media: