Nuclear war is inevitable – North Korea
The US should abandon its "hostile" policy if it is truly interested in dialogue, Pyongyang believes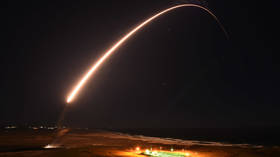 The world is just a step away from nuclear conflict, North Korean Defense Minister General Kang Sun-nam ewarned in a statement made public on Tuesday and presented at the Moscow International Security Conference.
The official blamed Washington's desire for regime change in Pyongyang for ratcheting up tensions. He also accused the US of increasing its military presence in the region by deploying nuclear-capable aircraft and a submarine to the area.
"Now, the question is not if a nuclear war breaks out on the Korean Peninsula, but who starts it when," Kang warned. In this year alone, the US sent "massive strategic arms" to the region, including a nuclear-capable submarine, an aircraft carrier group, and a nuclear-capable bomber, he added.
The US Navy's Carrier Strike Group 11, led by its flagship, the aircraft carrier USS Nimitz, arrived at a South Korean military port in late March, soon after Pyongyang unveiled its new, smaller nuclear warheads, which can supposedly be mounted on short-range ballistic missiles.
In late June, a US B-52 strategic bomber took part in the joint drills with South Korea. Just two weeks later, America also deployed its Ohio-class ballistic missile submarine, the USS Kentucky, to South Korea. Armed with 20 Trident II ballistic missiles, the undersea vessel carries a total of 80 nuclear warheads.
"The US, which has been waging a hostile state policy against [North] Korea … for 80 years, blatantly interferes with the independent development and security interests of the North and pushes the situation in North-Eastern Asia to the brink of a nuclear war," Kang said.
Washington has to admit its belligerence in policy towards Pyongyang and abandon its confrontational approach if it truly wants to resolve the crisis in a peaceful way, he added. Until America does that, any dialogue is impossible, he maintained, which means military force "remains the only way to secure peace and stability on the Korean Peninsula."
The general stated that all claims by the US and its allies about their willingness to resolve the issues around the peninsula through negotiations were nothing "but an empty echo" and the only way to prevent nuclear war is for Pyongyang "to possess military means of deterrence."
Kang also declared that North Korea would no longer consider US drill suspensions or other similar steps to be genuine manifestations of goodwill by the US. Washington would need mere days to send its strategic bombers and a nuclear submarine back to the peninsula and can redeploy its military contingent there "in half a month" even if it fully withdraws from South Korea, the general believes.
"We are well aware of the fact that the aggressive intention of the US to strip us of our nuclear weapons and destroy our system through brute force cannot be changed even in the slightest," he said.
The general's words came just days after North Korean leader Kim Jong-un ordered heightened preparations for war, including increasing the production of weapons. He also called for top officers to carry out drills with the country's latest weaponry to ensure that troops were ready for a potential conflict.
The move was taken ahead of a planned major joint military exercise by the US and South Korea.
You can share this story on social media: