North Korean navy to receive nuclear weapons
The move comes as Washington, Tokyo and Seoul bolster military ties in the Asia-Pacific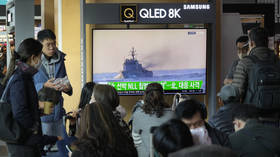 North Korea is set to equip some of its naval vessels with atomic weapons, the country's leader has said, vowing to make the navy a central component of Pyongyang's nuclear deterrent.
Kim Jong-un announced the move during a visit to the North Korean navy headquarters on Sunday, telling sailors that some ships would soon be outfitted with "tactical nuclear weapons" and become part of the DPRK's "state nuclear force."
"Our navy should play the biggest role in defending the sovereignty, dignity and development and interests of the DPRK," Kim said, according to a transcript of the speech released by KCNA on Tuesday morning. He added: "It is only possible to defend the security of the country with a fully prepared naval force."
Kim went on to state that "the US imperialists" and other regional rivals are becoming "more frantic than ever before," citing several rounds of joint military drills between Washington, Seoul and Tokyo in recent months.
"Owing to the reckless confrontational moves of the US and other hostile forces, the waters off the Korean Peninsula have been reduced to the world's biggest war hardware concentration spot, the most unstable waters with the danger of a nuclear war," Kim continued, also citing the permanent deployment of US nuclear assets in waters around the Korean peninsula.
In addition to stepped-up drills, the US, Japan and South Korea have embarked on other forms of military cooperation over the last year, including information-sharing, joint missile defense projects and even joint nuclear planning. Pyongyang has repeatedly accused the three allies of planning an attack on North Korea, though Washington insists the military actions are purely defensive.
You can share this story on social media: