North Korea warns of 'thermonuclear war'
Pyongyang has accused the US of making an all-out conflict more likely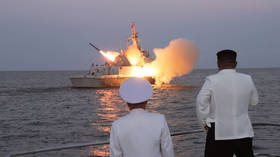 Washington's close military ties with South Korea are bringing the region closer to a nuclear war, Pyongyang claimed on Tuesday.
The state-run Korean Central News Agency (KCNA) argued that the ongoing 11-day US-South Korean exercise 'Ulchi Freedom Shield' was a rehearsal for "an actual war to invade the North," and that "the aggressive character of the drill is becoming ever more conspicuous."
Pyongyang further insisted that if during the current drill the US and its allies implement the principles agreed last week at Camp David, Maryland, "the possibility of outbreak of a thermonuclear war on the Korean Peninsula will become more realistic."
President Joe Biden hosted his South Korean counterpart Yoon Suk-yeol and Japanese Prime Minister Fumio Kishida at Camp David on Friday. In a joint statement, the three leaders vowed to increase military ties and "bring our trilateral security cooperation to new heights." They also condemned Pyongyang's "unprecedented number" of ballistic missile tests and accused it of cyberattacks.
North Korea traditionally considers US exercises with South Korea and Japan a threat. Washington, meanwhile, says the maneuvers are purely defensive in nature.
The drill, which kicked off on Monday, consists of over 30 separate exercises, combining computer-simulated wargames with field training. According to the US Navy, the drills will help to "solidify the role of the [US-South Korean] alliance as the linchpin of peace and security in the region."
Colonel Lee Sung-jun, spokesman for South Korea's Joint Chiefs of Staff, meanwhile, told reporters that the exercise was aimed to "counter the advancing threats from North Korea."
Pyongyang has responded to such exercises with its own weapons tests, firing projectiles into the Sea of Japan and the Yellow Sea. The Japanese Coast Guard said on Tuesday that North Korea had notified it about the plan to launch a satellite into space later this month. Pyongyang's previous satellite launch in May ended in failure.
You can share this story on social media: