EU sanctions authority not sure Prigozhin is dead – media
Brussels is reportedly still waiting for "reliable confirmation" that the Wagner founder was killed in a plane crash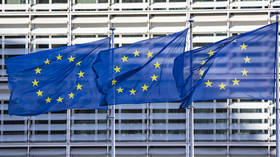 The EU is monitoring the situation following the death of Russian businessman Evgeny Prigozhin, and has yet to make a decision whether to lift the sanctions it imposed against him, Russian media have reported, citing the European Commission.
The Daily Storm news outlet said it had received a statement from the press service of the EU's executive branch claiming it had yet to see "reliable confirmation" of Prigozhin's death.
"The decisions of the [European] Council are taken unanimously, while discussions among member states are confidential," the remarks, quoted in Russian, said.
Prigozhin was killed along with some of his close associates and the crew of his private jet, when the aircraft crashed in Russia last Wednesday. Russia's Investigative Committee confirmed the identities of all the victims on Sunday, after DNA tests were conducted. His funeral took place on Tuesday in St. Petersburg.
The controversial tycoon and his enterprises had been hit by several rounds of Western sanctions. The US first targeted Prigozhin in 2016 for alleged election meddling. The EU did the same in 2020, citing his role as the head of the private military company Wagner Group, which at the time stood accused of supplying weapons to Libya, in violation of a UN embargo.
His family members also ended up in the crosshairs after the outbreak of the Russia-Ukraine conflict last year. In March, his elderly mother Violetta Prigozhina secured a ruling from the EU's second-highest court to overturn personal sanctions against her, after the court said the restrictions were "based solely on their family relationship."
Brussels has sanctioned relatives of a number of Russian businessmen under the premise that the actual targets may attempt to shield their assets by transferring ownership.
You can share this story on social media: