Prigozhin's death confirmed by DNA tests – Moscow
Genetic testing has identified all those listed as aboard the Wagner leader's doomed flight, the Investigative Committee has said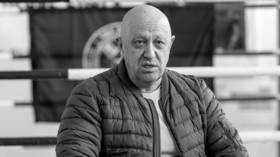 Russia's Investigative Committee has confirmed the death of Evgeny Prigozhin, the chief of private military company Wagner Group, in a plane crash earlier this week.
In a statement on Sunday, Svetlana Petrenko, the committee's chief spokesperson, said that Russian investigators had completed DNA testing of the bodies of those who were on board the Embraer 135BJ Legacy 600 plane. The jet went down in Tver Region on Wednesday as it was flying from Moscow to St. Petersburg.
"The identities of all 10 of the deceased have been established, [and] they correspond to the flight list," Petrenko said.
The document in question had already been shared by Russia's Federal Air Transport Agency and listed Prigozhin and several other high-ranking Wagner operatives, including Dmitry Utkin – said to be the co-founder of the PMC – and Valery Chekalov, who was widely considered to be Wagner's head of logistics.
The flight crew – two pilots and an air-hostess – have also been proclaimed dead.
Prigozhin, who was thought to be a confidant of Russian President Vladimir Putin, grabbed headlines after the start of the Ukraine conflict in February 2022, when his PMC took an active role in hostilities, most notably in the fighting around the key Donbass stronghold of Artyomovsk (also known as Bakhmut).
The Wagner chief repeatedly criticized the Russian Defense Ministry, and in late June, he accused it of shelling a field camp belonging to his men and announced a 'march of justice' on Moscow in a bid to purge allegedly corrupt officials. However, Prigozhin's mutiny turned out to be short-lived, and ended with a deal brokered by Belarusian President Alexander Lukashenko.
Just last week, Prigozhin released a video apparently filmed in Africa. At the time, he said that the Wagner Group had reopened recruitment, and was conducting "reconnaissance and search activities" against "ISIS, Al-Qaeda, and other bandits."
On Thursday, commenting on the Prigozhin plane crash, Putin described the businessman as a "talented" man of "complicated destiny" who made a significant contribution to the fight against neo-Nazis in Ukraine.
You can share this story on social media: