Türkiye believes Ukraine peace talks 'futile' without Russia – Hurriyet
Ankara is the only party that speaks "openly and clearly" with those involved in the conflict, the newspaper has claimed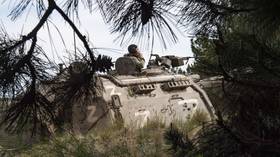 Türkiye is convinced that any peace negotiations on Ukraine that do not involve Russia will yield "no results and no solution," according to the Hurriyet newspaper. Ankara reportedly voiced its position during a meeting on the conflict hosted by Saudi Arabia earlier this month.
The summit in Jeddah brought together some 40 nations, represented primarily by security advisers and senior diplomats. The talks, which excluded Russia, failed to yield any tangible results, with participants agreeing only that the UN Charter and Ukraine's territorial integrity should be respected.
Türkiye was represented by President Recep Tayyip Erdogan's chief adviser on foreign policy and security, Akif Cagatay Kilic. During the meeting, Ankara stated its position that "if Russia is not included in the search for a solution, there will be no results and no solution," according to Hurriyet.
The Jeddah talks showed that Türkiye remains the only party that speaks "openly and clearly" with both Kiev and Moscow, the newspaper claimed.
Türkiye has strived to become a mediator in the conflict, which broke out in February 2022, from its very early stages. The country hosted direct talks last year between Kiev and Moscow in Istanbul, which yielded a preliminary peace agreement. However, the negotiations ultimately collapsed, with Russia accusing Ukraine of discarding the peace deal immediately after it was initiated.
Ankara also emerged as a key broker behind the so-called Black Sea grain deal. The UN-sponsored agreement lifted a blockade from Ukrainian Black Sea ports, enabling the country to export its agricultural produce. Russia repeatedly criticized the deal, stating that it veered away from its original purpose to send produce to the poorest nations, and ended up benefitting Western countries.
Moscow also argued that none of the Russian demands envisioned under the deal, including unblocking its own agriculture and fertilizer exports, or the partial lifting of sanctions affecting the sector, were met. Russia refused to prolong its participation in the initiative in mid-July, de facto re-imposing a blockade on Ukrainian ports.
You can share this story on social media: