Any 'real' talks on Ukraine should include Russia – Brazil
The conflict in Ukraine is a "chapter in the longstanding rivalry" between Russia and the West, according to the Brazilian envoy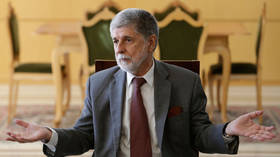 The head of the Brazilian delegation to a Saudi-hosted summit on the Ukraine conflict has expressed doubt that any progress can be made without Russia's involvement in the negotiations.
Brazil's chief presidential adviser, Celso Amorim, made the remarks by video link on first day of the gathering in Jeddah, to which Moscow was not invited.
"Any real negotiation must include all parties. Although Ukraine is the biggest victim, if we really want peace, we have to involve Moscow in this process somehow," he said, according to a copy of his statement reported by the Brazilian news website G1.
Some 40 countries have been invited to the weekend talks Saudi Arabia. Many of them have so far resisted US pressure to take sides in the crisis, seeing the conflict as a proxy war between major powers in which they want no part.
Previously the talks were rejected by Mexican President Andres Manuel Lopez Obrador, who called the meeting "pointless" unless Russia was present.
"This is not only a conflict between Russia and Ukraine," the head of the Brazilian delegation added on Saturday, according to the New York Times. "This is also a chapter in the longstanding rivalry between Russia and the West."
Moscow remains skeptical about any "peace plan" to be presented in Jeddah, saying the summit is a mere attempt by the West to persuade neutral countries to back the so-called "ten-point peace formula" proposed by Ukrainian President Vladimir Zelensky.
The Russian Foreign Ministry has previously said the negotiations in the proposed format amount to "an attempt to exploit the sincere intentions of [participating] countries to cobble together an anti-Russian coalition."
Russian Foreign Minister Sergey Lavrov said on Friday that the Ukrainian plan calls for Russia to "totally capitulate" and turn a blind eye to Kiev's persecution of ethnic Russians. However, Kremlin Press Secretary Dmitry Peskov said Russia would keep an eye on the Saudi meeting, reiterating that Moscow has always welcomed attempts to settle the conflict peacefully.
Meanwhile, Russian Foreign Ministry spokeswoman Maria Zakharova said that the talks "will not be useless" if they "help the West understand that Zelensky's plan has no prospects."
You can share this story on social media: