West trying to lure nations with Zelensky 'peace plan' – Moscow
The Global South should know that Kiev discriminates against ethnic minorities, Foreign Minister Sergey Lavrov has said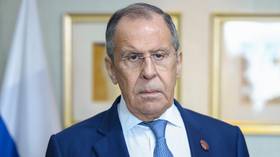 Western nations are inviting others to consider the so-called "Zelensky peace formula" for the purpose of optics, Russian Foreign Minister Sergey Lavrov has said. The plan, however, demands that Moscow turns a blind eye to Kiev's persecution of ethnic Russians, he added.
The top Russian diplomat reiterated his government's skepticism about Vladimir Zelensky's peace plan, in a written comment on Friday. He stressed that the conflict cannot be resolved without Kiev respecting the rights of ethnic minorities, particularly ethnic Russians, whose culture and language is under attack in modern Ukraine.
The US and its allies "put all their effort into imposing the 'Zelensky formula' on the Global South," Lavrov wrote.
Nations representing that part of humanity genuinely want to get to the bottom of the causes of the crisis, he added. Last month's Russia-Africa summit in St. Petersburg was the latest opportunity for Moscow to appreciate their attitude, Lavrov said.
"Nobody in Washington, London, Paris or Brussels would whisper a word about the position which the Kiev regime has declared loudly on many occasions: 'we'll take Crimea, Donbass and the rest of our lands' and 'destroy everything Russian there'," he added.
The so-called Zelensky peace plan, revealed during a G20 summit in Indonesia last year, demands retreat by and reparations from Russia, as well as long-term support for Ukraine by the international community. Moscow has rejected the proposal, describing it as being detached from reality.
However Kiev has been arguing for the proposal at various international events. Saudi Arabia is set to host a meeting in Jeddah this weekend, where the Ukrainian government and its Western backers will reportedly present the plan to neutral nations such as Brazil, India, Egypt and Zambia.
The gathering has been touted as "peace talks without Russia" by some media outlets. Moscow called it a Western attempt to "cobble together an anti-Russian coalition" by abusing the participants' true aspiration to end hostilities in Ukraine.
Lavrov didn't specifically call out the meeting in Jeddah but suggested that Western nations "convene staged forums with the sole goal of luring as many nations as possible into an approximation of a discussion" of a Ukrainian plan.
What the document envisages is for Russia to "totally capitulate, agree to an infringement of its security and abandon millions of Russians, whose ancestors lived on those [now-Kiev-claimed] lands for centuries," he said.
The minister challenged Zelensky's "promoters" to have him explain internationally what Kiev's plans for minorities would be were the situation to arise.
You can share this story on social media: