'Authorities cannot be unaware of organ trafficking' – Hague lawyer on allegations against Kiev
Moscow has accused Ukrainian President Vladimir Zelensky's administration of covering up the black-market organ trade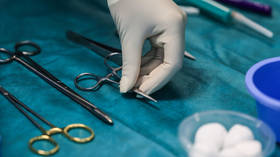 Illegal organ-trafficking is not possible without a cover-up from the authorities, Zoran Zivanovic, a lawyer who defended a number of Serbs in the Hague Tribunal in 2005, told RT Balkan on Monday. Earlier, Russian Foreign Ministry spokeswoman Maria Zakharova claimed that officials in Kiev could be engaged in an organ trafficking business that also involves former Kosovo militants who had run similar operations.
No accusations of organ theft and trafficking in Kosovo and Albania in 1999 led to any major prison sentences for those accused, Zivanovic said, adding that "some [of those involved] had been charged and … spent some time in jail," he told RT Balkan. None of them received sentences "warranted by such serious crimes," he added.
The network of those involved in the 1999 crimes likely included officials not only in Kosovo but also Albania, Zivanovic claimed. "It is hardly conceivable that the Albanian authorities were unaware of it. This [illegal business] entails organized participation of a large number of people. Captives who were harvested for organs were brought from another country, from Serbia, Kosovo, and Metohija. It cannot be that the authorities noticed nothing," he said.
On Monday, Zakharova said in an article published by the Russian Foreign Ministry that "there is data" showing that a black-market store selling organs of dead Ukrainian soldiers could be cooperating with "those linked to the Kosovo Liberation Army." The former militants could also operate in Ukraine as mercenaries, she added.
The Foreign Ministry spokeswoman also accused members of Ukrainian President Vladimir Zelensky's administration of being personally involved in the organ trafficking scheme and of covering it up. Zakharova called Ukraine a world leader in the black-market organ trade.
Rumors about organ trafficking in Kosovo and Albania have been circulating since the 1999 war between Serbia and its breakaway province, which ended in a NATO intervention that forced Serbian troops to withdraw from Kosovo. Various sources estimated the number of victims of organ traffickers that supposedly had strong links to the Kosovo Liberation Army (KLA) to be between 50 and 300. Media reports claimed that people – mostly Serbs, Roma, and Albanians opposing the KLA – were specifically kidnapped and killed for that purpose.
The allegations were detailed by the then-chief prosecutor for the International Criminal Tribunal for the former Yugoslavia, Carla Del Ponte, in her book, 'The Hunt: Me and the War Criminals in 2008'. They were also the subject of several journalistic investigations in the 2000s.
In 2010, Swiss prosecutor Dick Marty presented a report on the issue to the Council of Europe, in which he described the "indications" of an illegal trade in human organs going back over a decade at the time. The Council of Europe supported the report and called for an investigation. The case was dismissed by the European Union Rule of Law Mission in Kosovo and a number of EU MPs.
You can share this story on social media: