Kiev covering up illegal organ trade – Moscow
Ukraine has become a world leader in black-market trafficking, Russian Foreign Ministry spokeswoman Maria Zakharova has claimed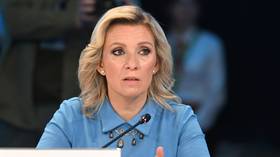 Russia's Foreign Ministry spokeswoman has alleged that members of Ukrainian President Vladimir Zelensky's administration are personally engaged in, and are covering up, the illicit export of human organs.
In an article published on the Foreign Ministry's website, Maria Zakharova cited media reports suggesting that the organs of killed Ukrainian soldiers, such as hearts, kidneys and livers, have been appearing on some of the biggest marketplaces of the dark net, with prices starting at €5,000 ($5,500). One dealer allegedly claimed that it takes 48-60 hours to receive any desired organ in a medical box, with deliveries limited to EU countries.
Zakharova noted that organs were also being traded offline, citing reports from June that representatives of a health ministry in a NATO country had struck a deal with some "private businessmen" who were assisted by Ukraine's Health Ministry and Presidential Office to deliver a refrigerated train car full of human organs and body parts.
According to the spokeswoman, organ trafficking in Ukraine has boomed since the authorities in Kiev passed a number of laws that "drastically simplified the work of transplant specialists in the country."
Specifically, Zakharova pointed to last year's Law No. 5610, which exempted transplantation from value-added tax, and the December 2021 Law No. 5831, which removed the need to notarise the written consent or authenticate the signature of a living donor to give up their organs.
In an explanatory note attached to the 2021 bill, Ukrainian lawmakers explained the simplification of the country's organ transplant regulations by the need to increase the efficiency of the transplantation system, in order to save more lives. Additionally, Ukrainian law prohibits buying or selling human anatomical materials and bans the harvesting of organs from orphaned children, unidentified persons, or people who died in the Russia-Ukraine conflict.
Nevertheless, Zakharova claimed that according to experts, Ukrainian organ sellers are not able to specify the origin of biomaterial that they schedule for delivery. It's apparently believed that many of these organs are supplied by black-market transplant specialists, who illegally remove them from the bodies of dead soldiers and burn the unclaimed remains.
Zakharova claimed that such suspicions are backed by the high death rate and the large number of missing Ukrainian soldiers, as well the shortage of specialists and reagents for studying corpses in Ukraine.
"This allows these criminals to cover their tracks and send human organs and body parts to the western regions of Ukraine, where they are prepared to be sent abroad for transplants," she said.
You can share this story on social media: