Beijing expresses hope for grain deal extension – TASS
The Chinese Foreign Ministry has said it is ready to mediate an agreement to ensure global food security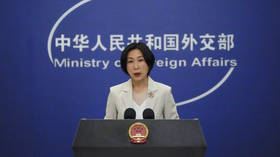 Beijing hopes that the Black Sea grain agreement will be extended, according to remarks by Chinese foreign ministry spokesperson Mao Ning on Monday, cited by TASS news agency.
"China hopes that the grain transportation initiative will continue to be fully implemented and is ready to work more closely with all parties to reach agreements on ensuring world food security," she said.
The statement comes after Moscow declared that it considers the deal "terminated." Kremlin spokesperson Dmitry Peskov on Monday pointed to having consistently raised the fact that the part of the deal concerning Russia had not been honored. "As soon as the Russian part of the agreements is fulfilled, the Russian side will return to the implementation of this deal, immediately," he said.
According to the Russian Foreign Ministry, the country has officially notified Türkiye, Ukraine, and the UN of its objection to the extension of the pact.
"Five systemic problems" with the grain deal were enumerated by the ministry as areas to be resolved, including the reconnection of Rosselkhozbank (the main bank of Russian agro-industrial sector) to the SWIFT system, the resumption of supplies of agricultural machinery and work on a key ammonia pipeline, lifting of the ban on Russia's access to EU ports, and the unblocking of foreign assets and accounts of Russian companies related to the production and transportation of food and fertilizers.
"That was a one-sided game all along. Not a single goal linked to the interests of the Russian Federation was met," Russian President Vladimir Putin outlined earlier this month, adding that Moscow had repeatedly extended the agreement in good faith despite its dissatisfaction.
The grain deal was signed in July last year by Russia, Ukraine, Türkiye and the UN, and guaranteed the safe export of grain from three Ukrainian ports along with assistance in the export of Russian grain and fertilizers. It has already been extended three times, with Moscow repeatedly voicing concern that the second part of the deal was not being carried out. The Kremlin has also stated that most exported Ukrainian grain did not ultimately reach the poorest nations.
You can share this story on social media: