Pentagon declassifies VIDEO of Russian jets 'harassing' US drones
The incident follows several other run-ins between US and Russian jets in recent weeks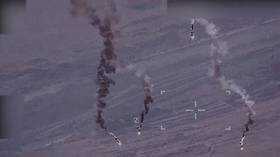 The US military has accused Russian pilots of "harassing" American drones flying over Syria, claiming several aircraft engaged in "reckless" behavior and forced the UAVs to take evasive action. The Pentagon has released footage purporting to show the encounter.
Air Forces Central, the air component of US Central Command (CENTCOM), issued a statement on Wednesday alleging "unsafe and unprofessional" flying by the Russian jets as they interacted with several Reaper drones.
"While three US MQ-9 drones were conducting a mission against ISIS targets, three Russian fighter jets began harassing the drones. Against established norms and protocols, the Russian jets dropped multiple parachute flares in front of the drones, forcing our aircraft to conduct evasive maneuvers," Air Forces Central head Lt. Gen. Alex Grynkewich said in the press release.
The command later released a video of the run-in, with what appear to be Russian aircraft seen releasing flares near the drones, leaving descending trails of smoke.
Though not captured in the footage, Grynkewich added that one Russian pilot had positioned his jet in front of a UAV and "engaged [its] afterburner, thereby reducing the operator's ability to safely operate the aircraft." He went on to urge Russian forces in Syria to "cease this reckless behavior and adhere to the standards of behavior expected of a professional air force."
The encounter follows several similar incidents in the skies over Syria this year, with Grynkewich telling the Wall Street Journal that there had been 60 separate run-ins between March and April alone. Last month, CENTCOM announced that it would respond with a new deployment of F-22 Raptors in the region, citing "increasingly unsafe and unprofessional behavior by Russian aircraft."
Moscow has similarly accused Washington of dangerous flying in Syria. In May, Rear Admiral Oleg Gurinov, deputy head of the Russian Center for the Reconciliation of Warring Parties in Syria, said US warplanes continued to commit "gross violations" of established deconfliction protocols.
"US Air Force pilots continue to activate weapons systems when approaching in the air with Russian Aerospace Forces aircraft performing planned flights in eastern Syria," he added.
Another episode involving Russian military jets and American Reaper drones in March saw the advanced US aircraft plunge into the Black Sea. While US officials also said the incident was another case of reckless flying, Moscow denied striking the UAV. The Russian pilots were later personally decorated by Defense Minister Sergey Shoigu, who commended them for preventing a "violation by the US MQ-9 drone" in closed airspace.
You can share this story on social media: