US sends more fighter jets to its Middle East
American officials have announced the deployment of F-22s, citing "provocative" Russian air operations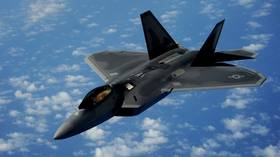 The US military has sent additional fighter jets to the Middle East after accusing Russia of "increasingly unsafe" aircraft activity in the region, including during several incidents in Syria.
F-22 Raptors with the 94th Fighter Squadron have been deployed from Langley Air Force Base in Virginia, according to Central Command (CENTCOM), which oversees US military operations in the Middle East, Central Asia and parts of Africa.
The decision was part of a "multifaceted show of US support and capability in the wake of increasingly unsafe and unprofessional behavior by Russian aircraft," CENTCOM said in a press release on Wednesday.
Pentagon officials have accused Moscow of reckless flights over US bases in Syria in recent weeks, with CENTCOM chief General Erik Kurilla claiming there has been a "significant spike" in "provocative" actions since March.
In an interview with the Wall Street Journal in April, Air Force Lieutenant General Alexus Grynkewich warned that the rise in tensions could lead to a "miscalculation" among Russian and American pilots operating in Syria, stating there were 60 separate incidents between March and April alone.
Moscow has similarly accused Washington of unprofessional behavior in Syria. Last month, Rear Admiral Oleg Gurinov, deputy head of the Russian Center for the Reconciliation of Warring Parties in Syria, said American warplanes continued to commit "gross violations" of deconfliction protocols.
"US Air Force pilots continue to activate weapons systems when approaching in the air with Russian Aerospace Forces aircraft performing planned flights in eastern Syria," the official added.
The US currently maintains about 900 ground troops in Syria and operates a network of air bases around the region. The new aircraft deployment also comes after CENTCOM said it would strengthen the US "defense posture" in the Middle East with additional naval assets, vowing to carry out "heightened patrols" in the Persian Gulf in response to "destabilizing" actions by Tehran.
You can share this story on social media: