US to confront Iran with naval deployments
The move comes after Washington accused Tehran of seizing multiple foreign oil tankers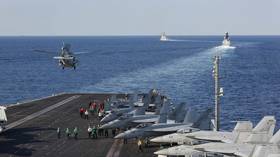 The US military is preparing to boost its "defense posture" in the Persian Gulf, with officials claiming that the Pentagon will deploy additional assets to the region to patrol commercial shipping lanes and 'protect private vessels' from Iran.
National Security Council spokesman John Kirby announced the move on Friday, telling reporters the Defense Department "will be making a series of moves to bolster our defensive posture in the Arabian Gulf," using an alternative name for the Persian Gulf.
US officials claim that Tehran has attacked or harassed 15 foreign-flagged vessels in the region over the last two years, calling the actions "destabilizing."
In the space of just one week between late April and early May, the Islamic Republic seized two oil tankers registered in Panama and the Marshall Islands, drawing condemnation from the US Navy.
"Iran's unwarranted, irresponsible and unlawful seizure and harassment of merchant vessels must stop," Vice Admiral Brad Cooper, who leads the 5th Fleet naval forces, said in a statement on Friday.
US Central Command (CENTCOM), which oversees operations in the Middle East, added that it is now "working with regional allies and partners to increase the rotation of ships and aircraft patrolling in and around the Strait of Hormuz."
Sandwiched between Iran, the United Arab Emirates, and Oman, the narrow strait acts as a transit hub for around one-fifth of the world's oil products each year.
While the Pentagon offered few details about what the stepped-up military presence would entail, it said US warships will carry out "heightened patrols" around the gulf. A CENTCOM spokesperson noted that the decision would be finalized after "consulting with our allies," and will be "consistent with the collective desire to ensure the safety and freedom of navigation for all nations."
Tehran has accused the US of "warmongering" and stirring up tensions by dispatching ships and submarines to the region in the past. Iranian officials said on Friday that its military had seized a tanker that had been illegally leased by a foreign national.
You can share this story on social media: