Iran seizes another oil tanker (VIDEO)
Tehran's forces have taken hold of two such vessels since the US blocked a shipment of Iranian oil last week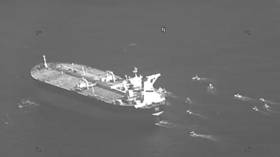 Iran's Islamic Revolutionary Guard Corps (IRGC) Navy used fast-attack boats to seize an oil tanker in the Strait of Hormuz on Wednesday, according to the US Navy, which released a video of the incident. Tehran confirmed the seizure, the second such retaliatory incident since the US reportedly blocked a consignment of Iranian crude oil last week.
The Niovi, a Panama-flagged tanker managed by Greece-based Smart Tankers, was swarmed by a dozen IRGC attack boats as it transited the strait, the US Navy said in a statement. Video footage released by the Navy showed the boats escorting the tanker, apparently after ordering it to redirect.
The ship had left Dubai at midday on Tuesday and was due to arrive at the Emirati port of Fujairah by Wednesday afternoon, but was turned around and diverted to Iranian waters.
On May 3 at approximately 6:20 a.m. local time, Panama-flagged oil tanker Niovi was seized by Iran's Islamic Revolutionary Guard Corps Navy (IRGCN) while transiting the Strait of Hormuz.See video & link to statement below ⬇️https://t.co/sdyxYmAQtOpic.twitter.com/0QcHUwM1Ks

— U.S. Naval Forces Central Command/U.S. 5th Fleet (@US5thFleet) May 3, 2023
Officials in Tehran told the Iranian judiciary's Mizan news agency that the Niovi was impounded following an unspecified legal complaint by a plaintiff.
The incident came after the Advantage Sweet was stormed by Iranian commandos in the Gulf of Oman last Thursday. The Marshall Islands-flagged vessel is owned by a Chinese firm, but had been chartered to transport a cargo of oil to the US for American petroleum giant Chevron.
Dramatic video footage released by Tehran showed the commandos rappelling from helicopters onto the ship's deck, before moving toward its bridge.
The US navy described both seizures as "contrary to international law and disruptive to regional security and stability." However, American officials did not mention the fact that immediately prior to Thursday's seizure, US authorities impounded a shipment of Iranian oil bound for China. Quoting anonymous officials, the Financial Times reported that the ship was redirected toward the US in an apparent sanctions enforcement operation.
The US and its allies often block the transport of Iranian oil at sea, and Tehran usually responds in kind. Iranian forces seized two Greek-flagged vessels in the Strait of Hormuz last year after Greece allowed the US to drain an Iranian tanker of oil in Greek waters. Back in 2019, Iran impounded two British-flagged tankers after the UK seized an Iranian tanker in Gibraltar.
You can share this story on social media: