Scholz explains Ukraine weapons refusal
Kiev previously demanded German-made cruise missiles capable of striking Moscow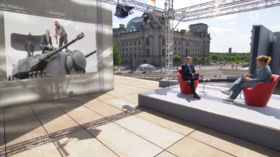 German Chancellor Olaf Scholz has said Berlin is reluctant to provide longer-range munitions to Kiev out of concern for a possible escalation should Ukraine decide to use them to strike Russian territory.
In a wide-ranging interview with the German state-TV channel ARD on Sunday, the chancellor was asked why Berlin refuses to supply Kiev with long-range cruise missiles.
"We carefully check all the requests we receive. But for us there is a principle that I share with the US president – we do not want the weapons we supply to be used to attack Russian territories," Scholz told ARD journalist Tina Hassel.
Ukrainian President Vladimir Zelensky reportedly told Scholz during their meeting in Berlin back in May that Kiev "urgently wants" Swedish-German Taurus KEPD 350 missiles. The air-launched munition is armed with a 500kg warhead and can travel up to 500km (310 miles).
Over the course of the conflict, Ukraine has demanded increasingly sophisticated weapon systems from its Western backers. Kiev has intensified calls for NATO to supply it with fighter jets – specifically the US-made F-16 – in recent months, after securing a pledge for dozens of Leopard 2 and 1, M1 Abrams, and Challenger 2 main battle tanks from multiple EU countries, the US, and the UK.
Berlin has repeatedly stated that it has no intention of risking an escalation with Moscow by sending new types of weapons to Kiev alone, without prior coordination with other NATO partners.
Germany had for months resisted calls to "release the Leopards," until Washington promised it would send some of its Abrams tanks too, sometime later this year. In June, German Defense Minister Boris Pistorius ruled out the idea of sending Taurus missiles in the foreseeable future.
So far only the UK has supplied Kiev with longer-range missiles. The Storm Shadow, which has a range of more than 250km, has already been used by Kiev to attack civilian facilities in the Russian city of Lugansk and elsewhere deep beyond the frontline in Donbass, according to the Russian military.
French President Emmanuel Macron followed suit with a promise his country will also provide Kiev with its variant of the Storm Shadow, called SCALP-EGs, although it remains unknown when they will be delivered.
Washington has yet to approve the supply of its long-range Army Tactical Missile Systems (ATACMS). Manufactured by Lockheed Martin, the MGM-140 ATACMS is a tactical ballistic missile with a range of up to 300km (190 miles). The missiles can be fired from the M270 MLRS or M142 HIMARS platforms, both of which the US has already given to Ukraine.
However, weeks into a much-touted Ukrainian counteroffensive which has thus far failed to yield any big gains, the Wall Street Journal reported last week that the decision to send ATACMS is now "pending approval at the highest levels."
You can share this story on social media: