NATO 'out of the question' for Ukraine right now – Scholz
The German chancellor wants the West to promise more weapons to Kiev, not a fast track to joining the bloc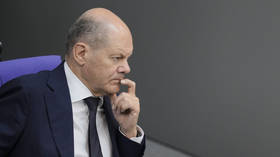 German Chancellor Olaf Scholz has argued that NATO should use its upcoming summit to marshall more military aid for Ukraine rather than pushing for the country to join the bloc. The US-led alliance is divided on the speed of Ukraine's accession, with Britain demanding a fast-tracked process.
"We have to take a sober look at the current situation," Scholz told parliament in Berlin on Thursday. Scholz added that Ukrainian officials have admitted "that joining NATO is out of the question" for as long as the conflict with Russia is raging, and the Western bloc should focus on other means of "support" for Kiev.
"Therefore, I suggest we focus on the top priority in Vilnius, namely strengthening the combat power of Ukraine," he argued, referring to the July summit in the Lithuanian capital.
"Our goal is… a sustainable military support of Ukraine, including with modern Western weapons," he said, adding that EU and G7 nations could work out "security guarantees" for Ukraine in the absence of full NATO membership.
NATO's official position on Ukrainian membership remains unchanged since 2008, when it declared that Ukraine "will become a member" at an unspecified point in the future. As long as the conflict with Russia is ongoing, this will be unlikely to shift, as Ukraine joining NATO would place the bloc at war with Russia. Prospective members can only join with the unanimous consent of all existing members.
Nevertheless, the European Parliament wants NATO leaders to use the Vilnius summit to extend a membership invitation to Ukraine, as do Polish, Lithuanian, and Ukrainian lawmakers. The UK backs these calls for urgency, with Foreign Secretary James Cleverly stating earlier on Thursday that London "would be very, very supportive" of NATO expediting Ukraine's accession to the bloc.
"The Ukrainians have demonstrated their commitment to military reform required for NATO membership through their actions on the battlefield, and I think all NATO allies recognise that," Cleverly added, without explicitly saying whether NATO should wait for the conflict with Russia to be resolved first.
For the time being, the US remains opposed to any fast-track process. Last week, US President Joe Biden stated that Ukraine would have to meet the same standards as everyone else and that "we are not going to make it easy."
You can share this story on social media: