US mulls sending long-range missiles to Kiev – WSJ
Washington reportedly sees an "urgent need" to enhance Ukraine's capabilities amid its stalled counteroffensive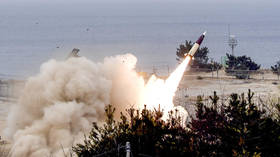 The US might approve sending Ukraine long-range Army Tactical Missile Systems (ATACMS), the Wall Street Journal reported on Thursday, citing American and European officials.
The White House feels it must urgently boost Kiev's military capabilities, the outlet said, weeks into a much-touted Ukrainian counteroffensive which has thus far failed to yield any big gains.
Capable of striking targets as far as 300 kilometers (190 miles) away, ATACMS are capable of hitting facilities deep inside Russia. The missiles can be launched from US-made HIMARS launchers, which have already been supplied to Kiev by Washington. The US has so far been reluctant to provide the longer-range munitions to Ukraine out of concern for possible escalation of the fighting.
Last July, US National Security Advisor Jake Sullivan said that President Joe Biden's administration would never supply Ukraine with such weapons as they could provoke a wider conflict if used to attack Russian territory.
Officials now say that the issue is "pending approval at the highest levels," according to the WSJ. Both American and European sources told the newspaper that the White House might change its position on the matter. The European officials also said they had been pressing the US privately on the need for longer-range missiles for Ukraine.
A senior Ukrainian defense official told the WSJ that Kiev had received "positive signs" on the issue in recent weeks. Certain variants of the ATACMS can strike any targets on the territory of the Crimean Peninsula and as far as the Russian city of Voronezh located more than 240 kilometers from the nearest border with Ukraine.
In early June, a group of US lawmakers urged Biden to provide even more advanced weaponry to Ukraine, including the ATACMS. The bipartisan group, led by Representative Jason Crow (D-Colorado), dismissed concerns that such weapons could escalate the conflict or leave US missile supplies too depleted.
Pulitzer Prize-winning reporter Seymour Hersh has said that Kiev's inability to penetrate Russia's defenses should serve as a "wake-up call" for the US. America's estimated $150 billion military aid package for Ukraine "turned out to be a very bad investment," the veteran journalist has argued, adding that the Ukrainian military might need more than a century to take back the territories newly-acquired by Russia, if its offensive continues at the current pace.
You can share this story on social media: