First rioters jailed in France
Six people were handed prison terms for looting and violence against police officers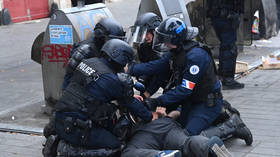 Some 50 rioters, most of them youths, have faced swift trials in Paris and Grenoble for participating in the wave of anarchy that followed the police shooting of a French-Algerian teenager earlier in the week. More than 2,800 people have been arrested during the unrest, according to the Interior Ministry.
Around 20 suspects appeared before the court in the Paris suburb of Nanterre on Friday. Most of them, the French newspaper Le Monde noted, were teenagers or young adults with no previous history of criminality.
Five suspects were on trial for rebellion, violence against police officers, and damage to property. All five pleaded their innocence, but after only 15 minutes of deliberation, three were handed prison sentences, one was given a warning, and one acquitted, Le Monde reported.
The most severe sentence was given to a 22-year-old identified as Amaury I., who threw stones at police officers from a housing project rooftop.
More court cases followed, with the France Info radio station reporting on Sunday that three rioters in the southeastern city of Grenoble had been sentenced to between three and four months in prison. The court in Grenoble heard a total of 30 cases on Sunday morning, France Info reported.
Primarily instigated by youths from immigrant backgrounds, the rioting broke out after police shot and killed a teenager who refused to cooperate at a traffic stop in Nanterre.
The protests quickly became violent and spread across the country, despite the officer involved in the shooting being arrested and charged with homicide. Amid widespread arson and vandalism, rioters have attacked police with fireworks and molotov cocktails, while some have been filmed brandishing military-grade firearms.
On Saturday, French President Emmanuel Macron postponed a planned visit to Germany due to the continuing unrest. Meanwhile, several European countries, including the UK, have advised their citizens to avoid traveling to areas gripped by the violence.
Macron's response to the riots – which he blamed on "video games" – has been heavily condemned by French police unions. Two organizations representing half of all the country's officers called on Friday for the president to launch a harsh crackdown on the "violent minorities" rampaging in the streets.
You can share this story on social media: