French rioters filmed brandishing military-grade weapons as unrest grows
Multiple participants in the ongoing protests triggered by a fatal police shooting appear to be heavily armed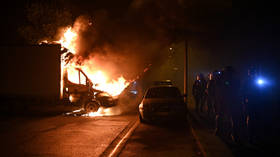 Mass rioting has continued to grip France after the fatal police shooting of 17-year-old Nahel M. during a traffic stop in the Paris suburb of Nanterre. Multiple videos circulating online have shown rioters across France carrying military-grade weapons. Around 45,000 police officers have been deployed to quell the unrest, which has spread throughout the country.
Kalashnikov classics
An unverified video said to be taken in the Paris suburbs shows two rioters firing Kalashnikov-pattern rifles into the air.
A similar video taken in the southern city of Lyon shows a rioter firing multiple shots into the air from a weapon that appears to be a fully-automatic assault rifle.
'Tactical' pieces
Another video said to be filmed in the northern French city of Lille shows a protester brandishing a weapon that resembles a light machine gun. The weapon appears to have a bipod attached as well as a large-capacity drum magazine.
Shotgun violence
At least four officers were injured by drive-by shotgun attacks in Lyon's northeastern suburb of Vaulx-en-Velin, according to local media reports citing police sources. A total of eight were targeted by the unknown assailants, who rode scooters. A criminal investigation has been launched, with no suspects apprehended thus far.
France is known for its strict gun control laws, with ownership of military grade weapons banned completely. To own a weapon with a removable magazine with a capacity larger than three rounds, French nationals must undergo annual mental, physical, and health checks. Hunting weapons must be registered and their owners must take exams.
At the same time, the country has had problems with the flow of illegal guns for quite some time. Balkan countries have been a major source of illegal weapons in the French market since the regional conflicts of the 1990s and the breakup of Yugoslavia. Apart from fighting gun trafficking from abroad, the French authorities have repeatedly launched campaigns to round up unlicensed firearms stashed in the country, encouraging their owners to hand over their arsenals.
You can share this story on social media: