Iraqis asked not to burn Swedish flag
Organizers of protests in Baghdad and Basra suggested defacing the Pride banner instead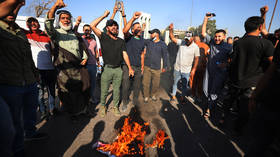 Protesters, gathered outside the Swedish embassy in Baghdad on Friday, chose to express their fury by trampling on the Rainbow Pride flag and photos of the Iraqi who torched the Koran in Stockholm earlier this week. However, they refrained from setting fire to the Swedish flag or breaching the embassy, on the request of cleric Muqtada al-Sadr, who organized the demonstrations.
Several hundred police guarded the embassy and the surrounding compounds on Friday from a crowd tha carried the Muslim holy books and chanted anti-LGBTQ slogans.
"No to homosexuality, yes to the Koran," chanted the demonstrators, according to AFP.
Earlier in the day, the Baghdad news portal Al-Yaum quoted al-Sadr's instructions forbidding the protesters from storming the embassy again or carrying any banners endorsing political parties, militias, or specific figures.
"It is not allowed to publicly burn the flag of the Kingdom of Sweden," Sadr's instructions reportedly said. "As an alternative, burn the flag of the LGBT community."
The call followed an incident on Thursday, when a group of protesters broke into the Swedish embassy compound, desecrated the Nordic country's flag and demanded the expulsion of its ambassador. The protesters dispersed within 15 minutes of the Shia cleric's intervention.
Meanwhile, Swedish ambassador Jessica Svardstrom was summoned to the Iraqi Foreign Ministry to receive a strong protest over Stockholm's decision to allow an Iraqi immigrant to burn the Koran in public.
Salwan Momika, 37, stomped on the Muslim holy book, placed a strip of bacon on it, tore out several pages and set them ablaze on Stockholm's Medborjarplatsen on Wednesday. The stunt coincided with the feast of Eid Al-Adha, as more than 1.8 million Muslims completed a pilgrimage to Mecca, known as the Hajj.
On Thursday, Momika told the Swedish newspaper Expressen that he intends to burn the Koran again, along with the Iraqi flag, outside Baghdad's embassy in Stockholm "within ten days." Iraq has requested his extradition to face charges for the stunt.
Momika had secured a police permit for his public performance, but the government in Stockholm has since attempted to disavow him. Türkiye has cited previous such incidents in Sweden as a reason for blocking Stockholm's application for NATO membership.
"This is a serious security question. There's no need to insult other people," Swedish Prime Minister Ulf Kristersson said on Friday.
Russia has condemned Momika's stunt as an "act of vandalism" promoting religious hatred. "The desecration of sacred items has nothing to do with freedom of speech and religion, and with the principles of democracy," the State Duma said in a statement.
You can share this story on social media: