Protesters storm Swedish embassy following Koran burning
The diplomatic mission in Baghdad was briefly overrun by an angry crowd following a provocative demonstration in Sweden's capital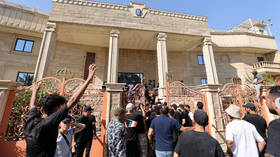 Dozens of people stormed the Swedish embassy to Iraq on Thursday, angry over a Koran-burning protest in Stockholm two days earlier, staged amid celebration of the Islamic holiday of Eid al-Adha. The event had previously been sanctioned by local authorities.
The demonstration in Baghdad saw a crowd gather in front of the diplomatic mission, following calls for action by influential Iraqi Shia cleric, Muqtada al-Sadr. The protesters distributed leaflets reading in both Arabic and English: "Our constitution is the Koran. Our leader is al-Sadr," AFP reported, citing its photographer at the scene.
Those gathered also spray painted an inscription reading: "Yes to the Koran" on the embassy gates before breaking in and briefly overrunning the facility. The crowd then left peacefully after about 15 minutes, as soon as security forces arrived, according to AFP.
The Swedish Foreign Ministry told broadcaster SVT that the embassy staff was "safe" and the ministry was in contact with them. The outlet said the diplomats managed to leave the premises and get to safety.
On Wednesday, Al Sadr called for the expulsion of the Swedish ambassador, accusing him of representing a nation "hostile to Islam" and supporting "immorality." He demanded that the person behind the Stockholm stunt, who has been identified by Swedish authorities as Iraqi citizen Salwan Momika, be stripped of his citizenship and sent to Baghdad for trial.
The chief judge of the Iraqi Supreme Court, Faiq Zaidan, has also reportedly called on Sweden to extradite Momika. The Iraqi government also condemned the action, calling it "racist" and saying it promoted "violence and hatred."
According to SVT, the burning episode has sparked "sharp reactions" in Jordan, Iran, and Morocco, with the latter even recalling its ambassador in the wake of the incident.
Russia also condemned the Stockholm demonstration. The Russian State Duma declared that the Swedish authorities were perfectly aware that allowing anti-Islam activists to carry out the Koran burning would lead to religious and ethnic tensions. President Vladimir Putin has called it a crime to deliberately offend religious beliefs.
You can share this story on social media: