Trump barred from sharing evidence in secret documents case
The ex-leader has pleaded not guilty to 37 felony counts linked to the alleged mishandling of classified material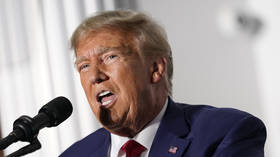 A US federal judge has ordered former President Donald Trump not to disclose evidence obtained during the discovery process in his classified document case, approving a request by prosecutors to keep sensitive details under wraps.
Magistrate Judge Bruce Reinhart authorized the protective order on Monday, preventing Trump and his co-defendant, former presidential valet Walt Nauta, from sharing evidence with the public. The move follows a motion by special counsel Jack Smith, who is leading the criminal case against the ex-president.
The order states that Trump and Nauta "shall not disclose the discovery materials or their contents directly or indirectly to any person or entity other than persons employed to assist in the defense, persons who are interviewed as potential witnesses, counsel for potential witnesses, and other persons to whom the court may authorize disclosure."
Trump was indicted earlier this month on 37 felony counts related to the alleged mishandling of classified national security information, as well as obstruction of justice for not returning documents kept after he left office in 2021. The charges came after federal investigators recovered more than 300 classified documents from Trump's possession, some of them during an FBI raid on his Mar-a-Lago estate last August.
The 45th president pleaded not guilty to all charges at his arraignment in Miami last week and has continued to deny all wrongdoing. During his first interview since his indictment, Trump told Fox News' Brett Baier that none of the documents he retained were classified after he departed the White House.
Asked why he did not simply return the files after he was approached by federal officials, Trump said he never got around to clearing his belongings from the boxes containing the documents, which he added were "interspersed with all sorts of things – golf shirts, clothing, pants, shoes."
"I had boxes. I want to go through the boxes and get all my personal things out," he said. "I don't want to hand that over to [the National Archives] yet. And I was very busy, as you've sort of seen."
Attorneys for Trump and Nauta did not contest the protective order, which was requested by Smith last Friday. Such measures are common in federal cases involving classified material or possible violations of the Espionage Act. Most of Trump's charges were brought under the World War I-era law, with each count carrying a maximum prison sentence of 10 years.
You can share this story on social media: