More than half of Americans back pardon for Trump – poll
The public is split on whether the former president should withdraw from the White House race due to his indictment, according to the survey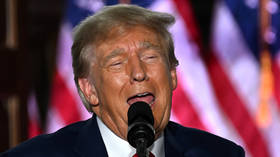 More than half of Americans believe that former US President Donald Trump should be pardoned if he's convicted and sent to prison over his alleged mishandling of classified papers, a poll has revealed.
The monthly survey by the Center for American Political Studies at Harvard (CAPS), the Harris Poll and HarrisX, which was published on Friday, has shown that 53% of the voters asked, including 80% of Republicans, thought that Trump should be pardoned "in the interest of national unity."
Former US president was indicted on 37 felony counts last week, but Americans appear to be split 51% to 49% on whether it's a reason for him to withdraw from next year's race for the White House.
At the same time, 58% of those surveyed thought that the legal case against Trump was strong. This view is held by 85% of Democrats, 60% of Independents and 30% of Republicans, according to the study.
If the election was held now Trump would have beaten incumbent US President Joe Biden by 45% to 39%, the poll also suggests.
"Americans remain politically split 50-50 but just about 100% are unhappy with the direction of the country, the economy, and their political leaders," Mark Penn, co-director of the Harvard CAPS / Harris Poll has said. "Biden's approval is frozen in place despite the debt ceiling deal and a recovering stock market; yet Trump's numbers are also unshaken after an unprecedented federal indictment."
You can share this story on social media: