China and US hold 'candid' talks – Washington
Secretary of State Antony Blinken traveled to Beijing for negotiations with top Chinese officials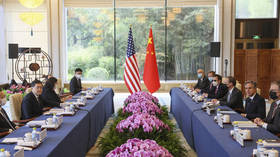 US Secretary of State Antony Blinken traveled to China on Sunday for high-profile talks with his Chinese counterpart, Qin Gang, and other senior officials. Blinken has become the most senior US official to visit Beijing since President Joe Biden took office in 2021.
The first day of Blinken's visit involved talks between him and China's recently appointed Foreign Minister Qin, formerly Beijing's ambassador to Washington. The closed-door negotiations ran for over five hours, with both sides providing little detail after the talks. Blinken's spokesperson, Matthew Miller, described the conversation as "candid, substantive, and constructive" in a tight-lipped statement.
"The Secretary raised a number of issues of concern, as well as opportunities to explore cooperation on shared transnational issues with the PRC where our interests align," Miller said, adding that Blinken told Qin that Washington "will always stand up for the interests and values of the American people and work with its allies and partners to advance our vision for a world."
The Chinese side released similarly short statements, but directly named the main issue in the bilateral ties – Taiwan. The island, regarded by Beijing as an integral part of the country, has been strengthening its ties with the US for several years, serving as a constant source of tension between Beijing and Washington.
"Qin Gang pointed out that the Taiwan issue is the core of China's core interests, the most important issue in Sino-US relations, and the most prominent risk," Chinese state media quoted Qin as having told Blinken.
The talks exposed "profound differences" between Beijing and Washington, a senior State Department official told reporters, adding that the two sides showed a "desire to reduce tensions" and even achieved certain progress "on a number of fronts."
"No one was under any preconception that we were going to solve all of the difficult issues in one meeting or two meetings," the official stated, adding that the two nations managed to agree on expanding flights between them, but did not share any exact details.
On Monday, Blinken is scheduled to take part in a roundtable discussion chaired by the top Chinese diplomat Wang Yi, who stepped down from the foreign minister's post six months ago and is currently serving as director of the Chinese Communist Party Central Committee Foreign Affairs Commission Office. The talks are expected to involve American exchange students and business leaders. It remains unclear, however, whether Blinken will meet with Chinese President Xi Jinping during his visit.
You can share this story on social media: