US and China 'on precipice' of conflict – Kissinger
The veteran diplomat has urged Washington and Beijing to defuse tensions amid fears of a military clash over Taiwan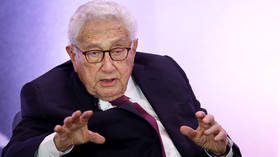 The US and China could slide into an open military confrontation if they continue to pursue their current policies, former US Secretary of State Henry Kissinger warned in an interview released on Thursday.
Speaking to Bloomberg, the former statesman, who is widely considered to have been the architect of the Sino-US détente in the 1970s, was asked whether he thought China would attempt to reclaim Taiwan in the near future.
While Kissinger stopped short of providing a definitive answer, he warned that "on the current trajectory of relations, I think some military conflict is probable."
He claimed that China-US relations have reached a "unique situation" as both countries view each other with deep suspicion. "The biggest threat to China is America, in its perception, and the same is true here [in the US]," Kissinger said.
"On the other hand, wars have become either unwinnable… or winnable only at costs that are out of proportion," the former diplomat added, warning that both countries must now step back from "the top of a precipice."
Kissinger insisted that "the current trajectory of relations must be altered" and pointed to signs that both sides are seeking de-escalation.
However, he argued it was debatable whether the US and China would be able to defuse tensions. "They have not yet actually engaged in the sort of dialogues that I've suggested. But I think they are moving towards it," he said.
The veteran diplomat was apparently referring to the upcoming visit of US Secretary of State Antony Blinken to China. According to Washington, the two sides intend to "discuss the importance of maintaining open lines of communication" as well as a number of bilateral issues of concern.
The landmark trip comes at a low point in relations, with Taiwan among the most divisive issues. China considers the self-governed island to be part of its sovereign territory, and has been angered by Taipei's purchases of American military equipment.
Senior Chinese officials have repeatedly stated that they would prefer a peaceful reunification with Taiwan, but have not ruled out the use of force to accomplish this goal.
You can share this story on social media: