US can't recruit enough Green Berets – media
Army special forces have reportedly failed to meet enlistment targets for years amid a shortage of qualified candidates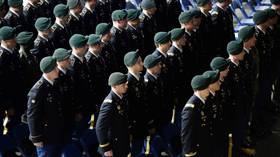 The US Army has reportedly failed to meet its enlistment quotas for special forces, known as the Green Berets, for four of the past five years, as recruiters struggle to find enough applicants who are qualified to join the elite unit.
The service recruited an average of 1,011 new Green Beret candidates from 2018 through 2020, well below target for those years, and it only managed to meet its quota in 2021 after the goal was lowered to 1,250 from 1,540, Military.com reported on Thursday. Just 779 new recruits signed contracts in 2022, a 38% shortfall versus the target, and 527 Green Beret candidates have been recruited so far this year, the outlet said, citing internal US Army data.
"We have to do a better job at telling our story," Lieutenant General Jon Braga, head of the US Army Special Operations Command, told Military.com.
The unit's struggles come amid wider recruiting shortfalls in the US Army and other military branches. Secretary of the Army Christine Wormuth told Congress last month that enlistments would again fall short this year after falling short of the target by 15,000 troops, or 25%, in 2022. The US Army Recruiting Command has blamed the shortfalls on a tight labor market and the fact that more than seven in ten young Americans are ineligible for military service because of such issues as obesity, drug use and mental illness.
The Green Berets face the additional problem of many recruits being unable to get through the grueling qualification process after enlisting. Those who fail are often assigned to regular infantry units.
In recent years, just 45% to 60% of new recruits have passed the three-week course that's required before they can begin special forces training, down from an average of 60%-80% a decade ago, Military.com said.
Once they advance past the first screening hurdle, candidates go through a series of schools and tests that can take up to two years. Army leaders have considered shortening the training gauntlet by about half to fill vacant positions more quickly, the outlet said. The army has reportedly caused resentment among some Green Berets by making the qualification process easier, allegedly to enable women to pass.
Green Berets are the US military's lead guerilla-warfare forces. They typically work with indigenous militants as force multipliers, such as the operators who collaborated with Northern Alliance fighters in battling the Taliban during the early days of the Afghanistan war.
Military.com reported in May that the US Army may shrink its special forces by about 10% this decade, as its training emphasis shifts back toward conventional warfare. "The recruiting data is the first clear indication that the service may be slowly reducing the footprint of special operations."
You can share this story on social media: