US military eases tattoo rules to boost recruiting
The Air Force has tweaked its policy to allow for body art on the neck and hands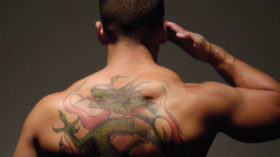 Neck and hand tattoos will no longer be prohibited under a policy revision designed to help ease a US military recruiting crisis, the Department of the Air Force announced on Wednesday. Previously, hand tattoos were limited to a single ring band on one hand.
Service members were already allowed to have tattoos on areas of their body that would be covered by a dress uniform, such as their back, chest, arms and legs.
"We are starting to see some positive results of our training program, policy changes and our enhanced marketing efforts, but military recruiting will remain a long-term challenge," said Major General Ed Thomas, commander of the Air Force Recruiting Service. "One of the leading barriers currently being tackled is the increased prevalence of hand and neck tattoos among America's youth."
All branches of the US military struggled to meet their recruiting goals last year, leading to a 15,000-troop shortfall by the Army. The Air Force met its 2022 target for active-duty recruits, but only after sweetening enlistment bonuses twice and accelerating the start dates for people who had signed contracts to enter service in 2023. The Air National Guard and Reserve remain thousands of troops short of their targeted staffing levels.
Thomas has said that 2022 was the toughest recruiting year of the current century. The scramble to meet last year's enlistment goal – pushing through recruits who normally would have waited a few months to start training – left the Air Force about 5,000 people behind the point where it usually begins a new year.
The Army missed its 2022 recruiting goal by 25%, even after easing its tattoo restrictions last year. The Air Force revised its rules in 2017 to eliminate size limits for body art on the chest, back, arms and legs. Markings that are obscene, racist or commonly associated with gangs are still prohibited, as are tattoos on the face, tongue and scalp.
The US military services have looked for ways to eliminate barriers to enlistment, such as easing fitness and academic requirements, as fewer and fewer Americans qualify for the recruiting pool. Nearly 71% of Americans born after 1997 are ineligible for military service, most commonly because they are too obese to qualify, according to Pentagon data.
You can share this story on social media: