Pentagon used drag 'influencer' to attract recruits
The performer, a US Navy service member, has concluded a six-month stint as a "digital ambassador," a spokesperson told Fox News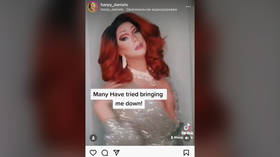 The Pentagon employed an enlisted "drag queen influencer" as a "digital ambassador" on social media to attract new recruits amid a historic slump, a spokesperson confirmed to Fox News on Wednesday. The program has ended and the sailor was not paid, the representative stressed.
US Navy Yeoman 2nd Class Joshua Kelley, also known as drag performer "Harpy Daniels," boasted on Instagram in November that the navy had invited the sailor to "be the first navy digital ambassador!" The Instagram bio for the Harpy Daniels persona reads "USN/Drag Queen / Non-Binary Sailor & Queen" with a disclaimer that the user's opinions are not endorsed by the Department of Defense or the US Navy.
"Thank you to the Navy for giving me this opportunity! I don't speak for the Navy but simply sharing my experience in the navy! Hooyah, and let's go Slay!" the performer wrote in an Instagram post.
The digital ambassador program was "designed to explore the digital environment to reach a wide range of potential candidates" as the Pentagon deals with "the most challenging recruitment environment it has faced since the start of the all-volunteer force," the spokesperson explained.
"The navy did not compensate YN2 Kelley or any others for being navy digital ambassadors," they continued. "We are now evaluating the program and how it will exist in the future."
The digital ambassador program concluded amid increased scrutiny of the Pentagon's pursuit of diversity. In February, Republicans in the House and Senate introduced legislation to restrict transgender military service, accusing President Joe Biden of turning the military into a "woke social experiment." House Democrats countered the following month with a bill that would prohibit the Department of Defense from discriminating against transgender recruits.
The Pentagon revealed last month that the army, navy, and air force were all set to miss recruitment targets for the year by thousands, with only the Marine Corps reaching its goal. While a shrinking pool of physically and mentally suitable prospects is the primary cause of the shortfall, critics of the Pentagon's 'woke' PR makeover have argued this approach is actually driving would-be recruits away.
Until 2011, LGBTQ service members were required to keep their sexuality under wraps under a policy directive known as Don't Ask, Don't Tell. Adopted in 1993, this was actually a relaxation of an earlier blanket ban on homosexual recruits. Kelley has described the Harpy Daniels persona as "a tribute to many service members who were kicked out, harassed, bullied or worse for being openly gay during Don't Ask, Don't Tell."
You can share this story on social media: