Ukraine will get stripped-down US tanks – media
Americans fear that Russia could capture M1 Abrams tanks, according to USA Today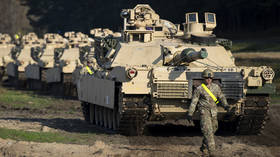 The US military is currently refurbishing older M1 Abrams tanks for delivery to Ukraine, stripping them of top-tier technology, to devalue their possible capture by Russian forces, USA Today reported on Monday.
President Joe Biden announced in January that Kiev would get the US main battle tanks, reportedly as "cover" for Germany to relent on sending its own Leopards. The Pentagon initially announced that 31 M1A2 models would be sent. Plans changed by March, however, as the US military opted to refurbish older M1A1 models instead.
The "lower-tech" tanks will not have "sensitive" technology that Russians could exploit, such as advanced targeting systems for the 120mm main gun, two officials who were not authorized to speak publicly told USA Today. The outlet also quoted a RAND Corporation expert, who said Russia could test any captured tanks for vulnerabilities.
The 70-ton, gas turbine-powered behemoth was developed in the 1970s and first saw combat in the 1991 Gulf War. Since then, stripped-down export versions have been provided to Saudi Arabia, Kuwait, Egypt, Morocco, Iraq, and Australia.
Ukrainian troops are scheduled to start training to handle the four-man tanks "later this month" at US bases in Germany. The training will take about ten weeks. The tanks themselves are expected to arrive later this year, so they will miss Kiev's much-anticipated "spring offensive."
"We're moving as quickly as possible," Colonel Martin O'Donnell, the spokesman for US Army Europe and Africa, told USA Today. It can take "years" to refurbish a tank for export, he added.
Significantly depleted in last year's fighting, Ukraine's armored force was somewhat replenished by T-72 tanks sent by Poland, Czechia, and Slovakia, as well as older T-55s from Slovenia. With those running out as well, Kiev clamored for Western weapons.
Biden's Abrams announcement was used to pressure German Chancellor Olaf Scholz to approve the delivery of Leopard 1 and 2 MBTs, first from other NATO members and then by Berlin as well. The UK has also sent 14 Challenger 2 tanks, which it previously prepared to retire.
Meanwhile, Russia has deployed some of its most advanced tanks to the Ukrainian battlefield, including the T-90M and the T-14 Armata.
You can share this story on social media: