New weapon 'changing course' of Ukraine conflict – Telegraph
Russian glide bombs are complicating Kiev's plans for a grand offensive, the UK outlet said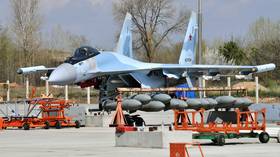 Russia is using bombs fitted with wings to bypass Ukraine's air defenses and pummel forces assembling for the much-heralded spring offensive, The Telegraph reported on Sunday. Kiev is citing this new development to once again demand F-16 fighters from the West.
"Russia's newest weapon is changing the course of Ukraine war," the Telegraph headline proclaimed, referring to glide bombs such as the FAB-500. Kiev officials have estimated that the Russian Air Force is using at least 20 such bombs per day.
Ukrainian Air Force spokesman Yury Ignat said the weapon has been used "intensely" for the past month, and described it as a "serious threat."
According to Ignat, the use of glide bombs means Moscow is "running low" on cruise missiles after "failing to take control of the skies over Ukraine." The Telegraph explained that the bombs outrange Ukrainian tactical air defenses, which have been moved to the frontline to support the much-anticipated offensive.
Ignat told reporters last week that Kiev was powerless to stop the bombs and pleaded for the US and its allies to send F-16 fighters. He repeated that plea to The Telegraph on Sunday.
"Just one or two would be enough to deter them, because the Russians would see that a couple of these things are in the air and they would avoid approaching," he said.
For several days in a row now, Russia has used cruise missiles and drones in waves of strikes on Ukrainian railheads, fuel and ammunition depots, and troop concentration areas for several days. Tactical drones have also been reported picking off Ukrainian air defenses along the frontline. Several US military experts have also noted the increased use of glide bombs recently, predicting increased Russian aerial superiority as Ukraine's air defenses continue to deteriorate.

This poses a challenge to Kiev's plans for a spring offensive, according to Justin Crump of the British intelligence consultancy company Sibylline. The troops and tanks brought up to the front line for the anticipated attack need to be scattered to avoid damage from the airstrikes, but would have to assemble very quickly once it is time to advance.
"Dispersion and rapid concentration of force is vital in this environment," Crump told the Telegraph.
According to Western officials, Ukraine has put together at least nine NATO-trained brigades and several hundred armored vehicles provided by the US, UK, Germany and France, in preparation for a massive attack, speculated to be aimed at Crimea. Kiev has repeatedly postponed the offensive, however, citing weather concerns and equipment shortages, while Western governments have sought to manage expectations in case of its failure.
You can share this story on social media: