Biden makes Ukraine tank announcement
The US will send 31 Abrams tanks to Kiev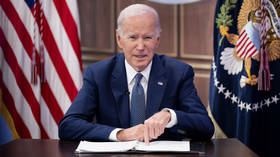 The US will send 31 Abrams main battle tanks to Ukraine, President Joe Biden announced in a hastily scheduled speech on Wednesday, after Germany said it would start delivering its Leopard MBTs to the government in Kiev.
The speech was announced on Wednesday morning as a last-minute addition to the White House schedule.
Calling the Abrams the "most capable tanks in the world," Biden noted they are complicated to operate and maintain and as such Washington will also provide "parts and equipment necessary to effectively sustain these tanks on the battlefield."
Biden insisted the tanks were a "defensive" weapon and not a threat to Russia, while praising Ukraine as "fighting for freedom" and pointing out the announcement coincided with President Vladimir Zelensky's birthday.
Earlier in the day, German Chancellor Olaf Scholz said Berlin would send 14 of its own Leopard 2A6 tanks to Ukraine and allow other EU and NATO countries to do the same with theirs. "We are acting in a closely coordinated manner internationally," Scholz said in a statement.
Poland had pushed for sending the Leopards to Kiev as part of an "international coalition," but the move required Berlin's approval. German officials signaled last week that the US would need to commit to sending the Abrams tanks first.
The US military has reportedly been reluctant, considering the gas-guzzling, turbine-powered Abrams too difficult to operate and maintain and too heavy for Ukrainian infrastructure.
According to Biden, the US and its allies have provided Ukraine over 3,000 armored vehicles and over 8,000 artillery pieces so far. The White House transcript of the speech, published later, put the latter figure at 800. Moscow has warned the West that such deliveries only prolonged the conflict and risked drawing the West into direct confrontation.
Russia's ambassador to Washington has described the rumored delivery of US tanks to Kiev as "another blatant provocation" by the "real aggressor" in the conflict, adding that they will "no doubt be destroyed" along with other hardware that NATO has poured into Ukraine over the past year.
You can share this story on social media: