Germany wants US to send tanks to Ukraine first – WSJ
The government in Berlin has been under increasing international and domestic pressure to approve tank shipments to Kiev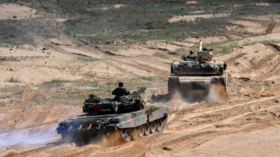 Berlin could only approve shipping Leopard main battle tanks to Ukraine if the US sends its own Abrams vehicles first, senior German officials have reportedly told the Wall Street Journal. The report came as demands for Berlin to approve the tank transfers threatened to fracture the German ruling coalition.
Poland, Finland and Denmark have all volunteered to send some of the Leopards in their possession to the Ukrainian military, but such a move would require Germany's permission. Berlin has yet to receive any formal requests to that effect, officials told the Journal.
"Senior German officials" told the outlet that Germany would be willing to give approval, but only if the US announced it would send Kiev some of its own Abrams MBTs.
Chancellor Olaf Scholz has described Germany as "strategically interlocked" with its friends and partners when it came to decisions on how to support Ukraine. Asked on Wednesday about the Leopard situation, Scholz told the World Economic Forum in Davos that he was concerned about the conflict in Ukraine escalating.
"The Ukrainians can rely on our support in their courageous fight but it is also clear that we want to avoid this becoming a war between Russia and NATO," he said.
While insisting that they are not parties to the conflict, the US and its allies have also argued that "Russia must lose" and supplied Kiev with money and an array of increasingly heavier weapons.
Scholz's coalition is reportedly split on the issue, with the Greens and Free Democrats in favor of giving Ukraine Leopards right away, while his own Social Democrats are reluctant. Defense Minister Christine Lambert resigned this week, in part due to the tank controversy. Her replacement, Boris Pistorius, admitted on Wednesday that Germany was "indirectly" involved in the conflict but would not comment on the Leopard affair.
Getting Abrams tanks from the US has long been the goal of Ukraine's Defense Minister Aleksey Reznikov, who told Politico in October that the Leopard was a stepping stone on that road.
According to the same outlet, Washington is reportedly unwilling to take that step at the moment, though not out of fear of further antagonizing Russia. Unnamed Pentagon officials told Politico on Wednesday that the issue is with the "logistical and maintenance challenges" of the Abrams, a 67-ton machine with a gas-guzzling turbine engine.
On Monday, the UK announced it would send 14 of its Challenger II MBTs, in hopes of nudging other NATO members to follow suit. The single squadron appears to be all the British Army is willing to spare at the moment, though a Tory MP admitted on Wednesday that Kiev needs hundreds to actually make a difference.
Moscow has repeatedly warned the West that sending weapons to Ukraine only prolongs the inevitable and risks escalation. Asked about the Challengers on Monday, Kremlin spokesman Dmitry Peskov said only that "those tanks can burn and they will burn like the rest."
You can share this story on social media: