Germany 'indirectly' involved in Ukraine conflict – defense minister
The German Armed Forces must "adapt" to a "new situation," Boris Pistorius has said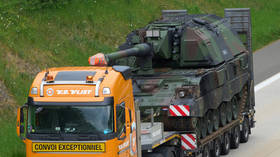 Germany is involved in the ongoing conflict between Russia and Ukraine, although only "indirectly," the nation's new defense minister, Boris Pistorius, admitted on Wednesday. The hostilities pose a "major challenge" for the German Armed Forces, the Bundeswehr, he said, adding that he was "well aware" of the responsibility he has to take under these circumstances.
Chancellor Olaf Scholz appointed Pistorius as defense minister following the resignation of his predecessor, Christine Lambrecht, on Monday. The former interior minister of the German state of Lower Saxony will officially take over the position on Thursday.
"The Defense Ministry is already a major challenge in… the times of peace," Pistorius told journalists in Hannover, referring to his new job. This challenge becomes even greater "in times, when… the Federal Republic of Germany is involved in a war, indirectly," he added.
The politician then added that he was "of course, well aware of the responsibility and the great importance of this task" of leading the defense ministry through such times. "The Bundeswehr must adapt to a new situation" that emerged in connection with Russia's military campaign in Ukraine, he added.
Pistorius has not revealed what exact actions he intends to take. However, his appointment comes as pressure is mounting on Berlin over the potential delivery of modern German-made Leopard 2 tanks to Kiev. Poland and Finland previously considered sending such tanks to Ukraine from their own stocks. However, any delivery of this kind would first require approval by Berlin, and Germany has so far denied that it has received any relevant official requests.
Some officials inside Germany also expect Pistorius to be more decisive than his predecessor. Lambrecht was repeatedly criticized over her reluctance to send heavier weapons to Kiev.
On Tuesday, German Economic Minister and Vice Chancellor Robert Habeck told Bloomberg Television he was in favor of authorizing the shipment of German-made tanks to Ukraine, both from home and other European nations. He also implied that this might be Pistorius' first task in his new position.
You can share this story on social media: