German leaders detail new defense minister's strengths
Boris Pistorius's vast experience and "big heart" make him the right person for the role, Chancellor Olaf Scholz said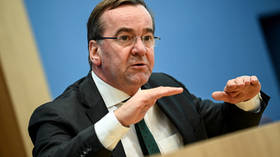 German Chancellor Olaf Scholz has named Boris Pistorius the country's new defense minister following the resignation of Christine Lambrecht on Monday. The Der Spiegel media outlet had previously reported that the politician serving as Lower Saxony's interior minister would take over the position.
Scholz confirmed the appointment in a tweet on Tuesday, calling Pistorius an "outstanding politician."
"With his experience, competence and assertiveness, as well as his big heart, he is exactly the right person for the Bundeswehr during the turn of the eras," Scholz wrote.
Federal Minister for Economic Affairs and Climate Action Robert Habeck, who also serves as vice chancellor, described Pistorius as a "very experienced politician who has the necessary strength of nerve in difficult situations."
Habeck argued that Lower Saxony's interior minister takes over the post at a pivotal juncture when Berlin must make "important decisions." Habeck singled out the "pressing question of how we further support Ukraine in its right to self defense."
Speaking to Bloomberg Television in the Swiss town of Davos on Tuesday, as he attended the annual World Economic Forum, the vice chancellor spoke in favor of authorizing the shipment of German-made tanks to Ukraine, both from home and other European operators, such as Poland and Finland.
He hinted that this will be Pistorius' first task in his new job.
"I argue that we will do that," Habeck said, adding that "if America decides that they will bring battle tanks to Ukraine, that will make it easier for Germany." He referenced Germany's history while explaining why his country is a "little bit more reluctant there for understandable reasons."
The vice chancellor insisted that Ukraine must get "all the military equipment that is needed to win the war." There is, however, a red line, according to Habeck: Germany itself should not get involved "in a Third World War."
Pressure has been mounting on Berlin in recent weeks, with several nations urging it to greenlight the delivery of German-made Leopard tanks to Ukraine, even if it comes from the stocks of other countries.
Chancellor Scholz, however, has thus far been reluctant to do so.
Russia has repeatedly warned that shipments of Western weapons to Ukraine only serve to prolong the conflict. Moreover, according to the Kremlin, they raise the chances of a direct confrontation between NATO and Russia.
You can share this story on social media: