British Army chief comments on tanks for Ukraine
Sending Challengers to Kiev will make the UK weaker but is worth it, General Sir Patrick Sanders has warned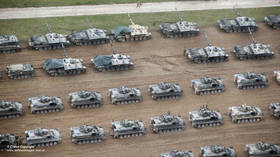 While applauding the promised delivery of Challenger 2 tanks to the government in Kiev, the chief of the general staff of the British Army warned on Monday that the move will have an adverse effect on its combat readiness and asked for more funding for weapons.
Sending 14 tanks to Ukraine will leave the British Army "temporarily weaker," General Sir Patrick Sanders wrote in an internal memo, according to state broadcaster BBC.
"There is no doubt that our choice will impact our ability to mobilize the army against the acute and enduring threat Russia presents and meet our NATO obligations," Sanders noted, adding that it was vital that the army's "warfighting capability" be restored swiftly.
However, he also argued that Ukraine would put the tanks to "good use" and that helping them defeat Russia "makes us safer."
Sanders took over as chief of the army general staff in June last year, and immediately argued the British land forces should be "capable of fighting alongside our allies and defeating Russia in battle."
Britain has promised to send Ukraine 14 of the Challenger 2s, in the first delivery of Western-made main battle tanks since the conflict escalated in February 2022. London has also pledged 30 AS90 self-propelled guns.
The Kremlin reacted by saying the Challengers "will burn like the rest" of Western-supplied armor. Russia has repeatedly warned the US and its allies against sending more weapons to Kiev, saying that this only prolonged the conflict and risked open confrontation. NATO is insisting it is not a party to the conflict, while continuing to supply Ukraine with billions of dollars in military aid.
Last month in an interview, Ukraine's top general claimed he needed 300 tanks to successfully fight Russia. Britain operated a total of 227 Challenger 2s as of 2020, when the defense ministry reportedly considered mothballing the entire armor corps as too costly.
On Monday, however, Defense Secretary Ben Wallace told the House of Commons he needed more money for the military. Current plans call for £24 billion ($29.3 billion) over the next decade, though any new vehicles won't be operational until the early 2030s, according to the BBC.
You can share this story on social media: