US won't grant key Ukrainian weapon demand – Politico
Washington is reportedly not expected to provide M1 Abrams tanks to Ukraine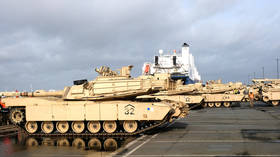 The US will not include the coveted M1 Abrams main battle tanks in a major Ukraine aid package that will be announced this week, Politico magazine reported Wednesday, citing three US officials and another person familiar with the matter.
Kiev had included the Abrams in its 2023 'wish list' issued late last month, as Ukrainian officials seek heavier weapons from the West for its conflict with Russia. Ukraine's allies are scheduled to meet at the US airbase in Ramstein, Germany on Friday.
The US is reluctant to supply these particular tanks due to "the logistical and maintenance challenges of the tanks, and not over concern that their transfer could escalate the conflict," a US official was quoted as saying.
Associated Press cited US officials as saying on Thursday that Washington would likely pledge as much as $2.6 billion of additional military aid to Ukraine this week. The package is expected to include – for the first time – around 100 Stryker and at least 50 Bradley infantry fighting vehicles, according to the report.
The US unveiled a plan to provide Bradley vehicles earlier this month. "To enable the Ukrainians to break through given Russian defenses, the emphasis has been shifted to enabling them to combine fire and maneuver in a way that will prove to be more effective," US Under Secretary of Defense for Policy Colin Kahl said on Wednesday, as quoted by AP.
On Monday, Britain promised to provide Ukraine with a squadron of Challenger 2 tanks and "hundreds" of armored vehicles, including Bulldog personnel carriers. Germany, meanwhile, vowed to supply Kiev with Marder armored vehicles, while France said it would send AMX-10 RC vehicles, which are also described as wheeled light tanks.
Kremlin spokesman Dmitry Peskov said the Western tanks would only "burn" in Ukraine and not change the outcome of the conflict. Anatoly Antonov, Russian ambassador to the US, meanwhile, accused Washington of pursuing a "dangerous course" by continuing to send weapons.
Russia's embassy in Berlin argued that Germany had only agreed to send Marders "under significant pressure from Washington."
Moscow has accused the West of prioritizing the "flooding" of Ukraine with weapons instead of focusing on a peaceful solution. "The West is using Ukraine to destroy the security system that has existed in the European-Atlantic region for many years," Russian Foreign Minister Sergey Lavrov said on Wednesday.
You can share this story on social media: