Another EU nation considers tank shipment to Ukraine – Politico
France could send its Leclerc armor to Kiev, but the issue is "complicated," the outlet's sources say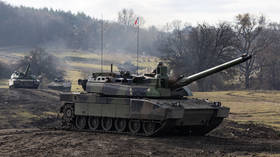 France is considering deliveries of Leclerc tanks to Ukraine in an effort to overcome Germany's reluctance to make a similar commitment, Politico reported on Thursday, citing sources. Should France arrive at this decision, it would become the third nation to pledge Western-made heavy armor to Kiev.
According to a French official interviewed by the outlet, Paris may resort to the move in order to provide Germany with a joint framework for tank shipments for Ukraine. The German government has repeatedly argued that it would not supply Kiev with Leopard 2 tanks, claiming that deliveries of such weapons should be coordinated with its allies.
However, France has yet to make a final decision on the matter, the report says. "The subject is complicated and hasn't been settled yet in Paris. But we are thinking about it," a French official told Politico.
He added that the issue could be addressed at the joint French-German cabinet meeting scheduled for Sunday.
Several news outlets have reported that German Chancellor Olaf Scholz would like the US to commit to tank shipments before Berlin would deliver Leopard 2 tanks to Ukraine. However, on Wednesday, a senior Pentagon official signaled that the US is still not ready to send its M1 Abrams tanks to Kiev.
"I just don't think we're there yet," admitted Colin Kahl, the Pentagon's top policy adviser. He described the US-made armor as "a very complicated piece of equipment."
"It's expensive. It's hard to train on. It has a jet engine," he added.
Calls for Germany to supply Kiev with Leopards grew louder after last week the UK confirmed it would send 14 Challenger 2 main battle tanks to Ukraine. Poland also announced that it would transfer a company of Leopard 2 tanks to Ukraine "as part of coalition building" while urging other Western nations to follow suit.
The re-export of these heavy tanks, however, has yet to be greenlit by Germany, with Berlin warning Warsaw that proceeding with the delivery without its approval would be outright "illegal."
Russia has repeatedly blasted Western countries for sending weapons for Ukraine, arguing that this would only prolong the conflict. On Monday, Kremlin Press Secretary Dmitry Peskov warned that Western-made tanks provided to Ukraine "will burn" and would not be able to change the outcome of hostilities.
You can share this story on social media: