Germany greenlights Leopard tanks for Ukraine
Berlin has also confirmed it's giving permission to other nations to provide German-made armor to Kiev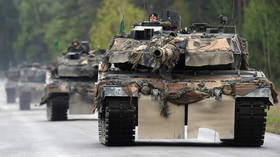 The German government has approved the supply of Leopard 2 main battle tanks to Ukraine, it announced on Wednesday. Both Germany and other European nations intend to deliver the heavy weapons systems to Kiev.
"This decision follows our well-known line of supporting Ukraine to the best of our ability. We are acting in a closely coordinated manner internationally," Chancellor Olaf Scholz said in a statement.
The German armed forces will send 14 Leopard 2A6 tanks from its own stock, the government said.
The move opens the door for nations such as Poland to transfer German-made armor to Ukraine. Germany's failure to promptly permit deliveries after other nations had announced their intentions to do supply Kiev with Leopard tanks exposed it to international criticism. Warsaw threatened to form a "smaller coalition" for would-be tank donors and hinted that it would do "the right thing" regardless of Berlin's position.
German Defense Minister Boris Pistorius had teased the imminent decision on Tuesday during a joint press conference with NATO Secretary General Jens Stoltenberg. The official suggested that other nations should identify tanks they want to deliver to Ukraine and start training Ukrainian crews as they expect a nod from Berlin.
Scholz was reportedly reluctant to see German tanks on the battlefield in Ukraine, unless the US paved the way first by agreeing to supply its own Abrams armor. The Pentagon claimed its tanks were too costly and complex to operate and maintain to be of much use to Ukraine.
News network CNN claimed on Tuesday that the Biden administration was about to override the objection and send a "significant number" of US-made war machines to Ukraine.
Russia has warned that by supplying heavier weapons systems to Ukraine, Western nations were simply prolonging the conflict and were risking its escalation. Moscow is pursuing vital security goals in Ukraine and will not drop these despite resistance, Russian officials have said.
"If a decision [is made] to transfer to Kiev the M1 Abrams, American tanks without any doubt will be destroyed, as [will] all other samples of NATO military equipment," Russian Ambassador to the US Anatoly Antonov had stated earlier in the day.
You can share this story on social media: