White House planning for 6G rollout
Despite the preparations, the next generation of telecom technology is still years away from implementation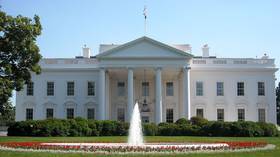 The US government is drawing up plans for the eventual use of 6G networks, hoping to give Washington a technological edge in the future amid concerns over Beijing's rapid advances in the telecommunications sector.
The White House met with corporate leaders, technology officials and academic experts to develop strategies for upcoming 6G networks on Friday, senior US officials confirmed to multiple news outlets.
The administration seeks to "take the lessons learned from 5G about the importance of early involvement and resilience" and use them to develop a 6G network which "optimizes performance, accessibility, and security," one government staffer added.
"It's imperative that we start to look at these issues early," a security official said on a press call on Thursday night.
While 6G technology is still in its infancy and is likely years away from use by the general public, it is expected to be significantly faster than the current 5G networks, and to dramatically expand high-speed internet access across the globe.
In late 2020, China successfully launched an experimental satellite carrying candidates for possible 6G technology, hoping to verify the performance of the 6G frequency band in space.
Another administration official noted China's technological gains in recent years, namely in the rollout of its own 5G network, saying Beijing had used the tech to advance national security goals and grow its global market share in the telecoms industry.
"China really prioritized its telecom sector…and I think we may not have," they said, pointing to the Shenzhen-based company Huawei as an example of Beijing's success.
Washington has targeted Huawei with sanctions, claiming it poses threats to US privacy and national security. On Wednesday, the Department of Commerce slapped a US computer parts manufacturer, Seagate, with a $300 million penalty for doing business with the Chinese firm. The fine was the largest-ever penalty imposed by the agency outside a criminal case.
Beijing has denounced the US efforts against Huawei as a way to sideline a capable foreign competitor in American markets, also accusing Washington of seeking "technological hegemony" and violating "the principles of market economy."
Huawei is preparing for its own rollout of 6G technology, and says it hopes to launch the ultra-fast networks by 2030. The company released a book-length paper on the subject in 2021 entitled '6G: The Next Horizon,' stating that it "expressed our preliminary 6G vision."
You can share this story on social media: