US tech edge 'totally gone' in some areas – Australian intel chief
If Washington hopes to regain its edge over China, it must pool resources, a top AUKUS intelligence official has claimed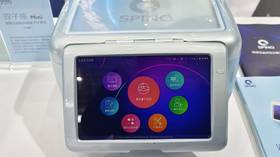 The US is losing ground to China on technological innovation and must pool its resources with the UK and Australia if it hopes to regain dominance in the region and globally. That's according to the director general of the latter's Office of National Intelligence, Andrew Shearer, who was speaking at the Sydney Dialogue on Tuesday.
The three countries signed the AUKUS nuclear security pact in 2021.
"We are seeing our longstanding technological edge start to erode, and in some cases that edge is totally gone," Shearer warned, adding that the military balance of power in the Indo-Pacific region is "starting to shift away from the United States and its allies," thereby "undermining deterrence."
Shearer's suggestion was echoed by several other attendees at the technology summit, including Eric Schmidt, the former Google CEO who now runs the US Special Competitive Studies Project. China, Schmidt said, is a "new kind of competitor" which can be relied on for some things but not others, and is "very capable of inventing a new future."
Calling Huawei and its 5G infrastructure "a signals intelligence nightmare," Schmidt urged the AUKUS nations to hire Chinese, Russian, and Indian scientists, and criticized Washington for restricting Chinese researchers from working in the US.
"Why would you not want the smartest Indians and Russians and Chinese out of those countries and in your country?" he said.
Austrian quantum expert Michelle Simmons suggested the three countries form a "joint mission" on quantum computing "to make sure [they] are at the forefront" of the nascent field.
The US is trailing China in 37 of 44 key tech research areas, according to a report published last month by the Australian Strategic Policy Institute. The institute warned that the risk of Beijing developing a technology monopoly in specialized fields like nanoscale materials and manufacturing, advanced radio frequency communications like 5G and its successor 6G, and synthetic biology is "high."
Last month, New Zealand revealed its interest in joining AUKUS as the fourth member, albeit a non-nuclear member, with an eye toward collaborating on military tech like AI and quantum computing.
A spokesperson for the Chinese Foreign Ministry warned the US against a military buildup in the Asia-Pacific region on Tuesday, accusing Washington of "pursuing its own interests and adhering to a zero-sum mindset" in a way that would inevitably result in "increased tension and a threat to regional peace and stability."
You can share this story on social media: