US Supreme Court judge under attack
Democrats have taken aim at Clarence Thomas, alleging he failed to disclose two decades' worth of luxury trips from a Republican donor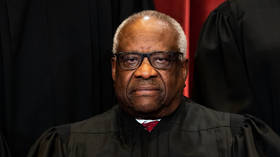 Democrats in the US Congress are demanding Supreme Court Justice Clarence Thomas face serious consequences up to and including removal from the bench, after a ProPublica investigation on Thursday claimed he had not disclosed decades' worth of luxury gifts and trips from Republican mega-donor Harlan Crow.
New York congresswoman Alexandria Ocasio-Cortez called for the justice's immediate impeachment less than 24 hours after the report's publication, denouncing Thomas' "shocking - almost cartoonish" levels of "corruption."
"This is beyond party or partisanship," she tweeted, warning that "barring some dramatic change, this is what [Chief Supreme Court Justice John Roberts'] court will be known for: rank corruption, erosion of democracy, and the stripping of human rights."
Senate Judiciary Committee chair Dick Durbin, an Illinois Democrat, vowed his committee would act on the report, calling Thomas' behavior "simply inconsistent with the ethical standards the American people expect of any public servant, let alone a Justice on the Supreme Court."
Senator Sheldon Whitehouse, a Democrat from Rhode Island, and fellow Judiciary Committee member and Democratic Senator Elizabeth Warren of Massachusetts joined the outcry, demanding stricter ethics rules to govern the nation's highest court.
ProPublica's report details a relationship in which Crow, a billionaire Dallas businessman, paid for yearly vacations, travel, and lodging – including getaways at his own private lakeside resort nearly every summer and extensive travel aboard his private jet and yacht – for over 20 years, costing hundreds of thousands of dollars in total.
"The extent and frequency of Crow's apparent gifts to Thomas have no known precedent in the modern history of the US Supreme Court," the report states, claiming his failure to disclose the "gifts" on his financial disclosures violates ethics laws requiring justices, judges, members of Congress, and federal officials to disclose most of the gifts they receive.
In a statement to ProPublica, Crow countered that Thomas was a friend and had never asked for any of the gifts or hospitality, adding that neither he nor anyone else present at the gatherings had ever discussed pending cases with the judge.
Thomas is generally considered the most conservative member of the Roberts Court, which leans heavily conservative overall following a trio of appointments by former president Donald Trump. While some Democrats, including AOC, have called for expanding the court beyond its traditional nine justices in the hope of neutralizing its conservative bent, a bipartisan commission created by President Joe Biden to study the feasibility of such a controversial measure stopped short of recommending it. Should Thomas be impeached, Biden would be called upon to appoint his replacement.
You can share this story on social media: