Biden hints at national transgender law
The US president has blasted restrictions imposed in Florida as "close to sinful"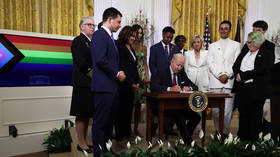 US President Joe Biden has suggested that Congress may need to pass a federal law protecting transgender rights to prevent restrictions such as those recently imposed in the state of Florida, which he called "cruel."
"The way we do it is we make sure we pass legislation like we passed on same-sex marriage," Biden said on Monday in a clip previewing his interview with "The Daily Show." "You mess with that, you're breaking the law, and you're going to be held accountable."
Biden didn't specify which protections he believes the federal government should enact, though he has said in the past that transgender Americans should have "every single solitary right, including use of your gender identity bathroom in public." Restricting such rights is legally and morally wrong, he said last fall.
The president singled out restrictions imposed in Florida, where Governor Ron DeSantis has touted a ban on sex-change surgeries and puberty blockers for children, for criticism. DeSantis, a frontrunner for the Republican Party's 2024 presidential nomination, also championed a ban on biological boys competing in girls' sports.
"What's going on in Florida is, as my mother would say, 'close to sinful,'" Biden said. "I mean, it's just terrible what they're doing. It's not like, you know, a kid wakes up one morning and says, 'You know, I decided I want to become a man or I want to become a woman. I mean, what are they thinking about here? They're human beings, they love, they have feelings, they have inclinations… It's cruel."
Congress, then controlled by Democrats, passed legislation last December legalizing same-sex and interracial marriage. Same-sex marriage was already legal nationwide, reflecting a June 2015 US Supreme Court ruling that struck down all state bans and restrictions on such unions. Interracial marriage has been legal nationwide and constitutionally protected since 1967.
A Reuters/Ipsos poll released last month showed that US voters prefer DeSantis over Biden by a margin of 41%-38% in the 2024 presidential election. However, the Florida governor will first need to win his party's nomination. In a head-to-head race with former President Donald Trump, DeSantis would win by a margin of 45%-41%, according to a Yahoo News/YouGov poll.
You can share this story on social media: