Pentagon unveils contents of Ukraine aid package
Kiev will receive another $2.6 billion worth of weapons, ammunition and services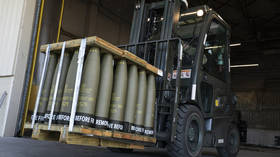 The US Department of Defense on Tuesday published a list of ammunition, weapons systems and other "security assistance" intended for Ukraine, amounting to $500 million from the Pentagon's own stockpiles and another $2.1 billion commissioned from the US military industry.
The "presidential drawdown" portion mainly consists of undisclosed amounts of ammunition for various tank, artillery and mortar systems, as well as for HIMARS rocket launchers and Patriot air defense batteries. Instead of Javelin anti-tank rockets, the batch includes the older TOW systems.
Other items of note include 11 tactical recovery vehicles, 61 heavy fuel tankers, and 10 tractor-trailers for transporting heavy equipment such as tanks – all suggesting that Washington is helping Kiev prepare for the much-heralded "spring offensive."
By the Pentagon's own admission, this is the 35th such drawdown from US inventory since August 2021 – long before the Russian operation in Ukraine began. The second portion, amounting to four times as much in dollar value, will be provided from the Ukraine Security Assistance Initiative (USAI) funds, designated to buy "capabilities" from US industry.
Among the equipment and ammunition that still needs to be produced are missiles for the NASAMS air defense systems, nine 30-mm anti-drone gun trucks, ten anti-drone rocket systems, and three air surveillance radars. The US also wants to send Kiev ammunition for 30mm and 23 mm autocannons, 122mm and 130mm artillery, 122mm 'Grad' rockets, 81mm and 120mm mortars, 120mm tank guns, more Javelins, as well as 3,600 small arms and 23 million rounds of ammunition.
Kiev can hope to eventually get seven more tactical recovery vehicles, another eight heavy fuel tankers and 105 trailers for them, armored bridging vehicles capable of supporting Western tanks, and more satellite communications equipment, among other things.
According to a "fact sheet" released by the Pentagon, the US has committed $35.8 billion in military aid to Ukraine since President Joe Biden took office, including $700 million sent before the hostilities with Russia escalated in February 2022.
Though the US Congress has so far appropriated over $113 billion for aid to Ukraine, only about 20% of that has been direct cash aid to Kiev, the top congressional Republican on the House Foreign Affairs Committee revealed last week. According to Congressman Michael McCaul of Texas, "approximately 60% is going to American troops, American workers, and on modernizing American stockpiles."
Moscow has repeatedly warned the US and its allies that continued military shipments to Kiev only prolong the conflict and risk direct confrontation. Washington and NATO have ignored the warnings, however, insisting that sending Ukraine everything from rifles to tanks and publicly stating that Russia "must lose" doesn't make them parties to the conflict.
You can share this story on social media: