Top US general skeptical of Ukraine's prospects
Joint Chiefs chair Mark Milley says achieving Kiev's primary military goal will be "very difficult"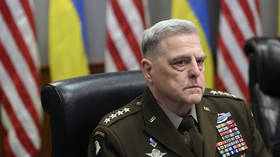 Ukraine's stated objective of expelling all Russian "invaders" is unlikely to be achieved this year, General Mark Milley, chairman of the US Joint Chiefs of Staff, said in an interview on Friday. His comments came as Kiev both announced a broad spring offensive and complained about not having all the weapons needed for it.
President Vladimir Zelensky said that Ukraine's objective is "to kick every Russian out of Russian-occupied Ukraine," Milley told the outlet Defense One. "And that is a significant military task. Very, very difficult military task."
"I'm not saying it can't be done," Milley added. "I don't think it's likely to be done in the near term for this year."
He qualified his statement by adding that the Ukrainians "certainly have a right to that" and are "on the moral high ground." Milley also insisted that Russia had "failed" both strategically and tactically.
This is not the first time Milley has voiced skepticism about a Ukrainian military victory. At a press conference in November, he said the probability of Kiev taking Crimea "anytime soon is not high."
Earlier this week, Ukraine's Defense Minister Alexey Reznikov said that Kiev's forces would use the newly delivered German Leopard tanks to attack in multiple directions, starting in April or May.
Zelensky himself was not so certain, saying that Kiev was awaiting more deliveries of weapons and ammunition from the West, and calling the situation on the front "unfavorable."
Ukraine's Foreign Minister Dmitry Kuleba has urged the US and its allies to continue sending Ukraine weapons and money, even if the offensive doesn't achieve 100% of its objectives. Meanwhile, his deputy Andrey Melnik told the German outlet Frankfurter Allgemeine Zeitung that the attack isn't quite ready just yet.
"We don't want to start a counteroffensive until we're prepared," he said. "We have approximately 50-60 Western tanks now, but the Russians have been able to produce ten tanks a day. This means we will be unable to achieve a decisive advantage on the battlefield for a long time to come."
Melnik's remarks came in the context of a call for more weapons, as he argued that the West should not draw a "red line" at supplying Ukraine with fighter jets.
The US and its allies have sent over $100 billion worth of weapons, ammunition and equipment to Kiev by the end of 2022, according to the Russian Defense Ministry. Milley told Defense One that the US military industry will take "probably several years" to replenish its stockpiles and meet the Pentagon's needs. It's "not going to be done by magic overnight" and will be "very expensive," he added.
You can share this story on social media: